THE D'OYLY CARTE OPERA COMPANY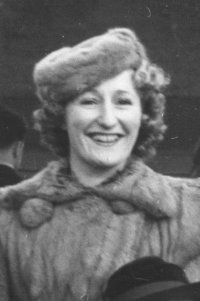 Maysie Dean
Maysie Dean (1937-45)
Maysie Dean appeared in the chorus of Ivor Novello's Glamorous Night (May-November 1935), the musical play Rise and Shine (May-June 1936), and Novello's Careless Rapture (beginning in September 1936), all at Drury Lane, before joining the D'Oyly Carte Opera Company chorus in May 1937.
During the August 1937-July 1938 season she appeared regularly as Giulia in The Gondoliers, and shared Isabel in The Pirates of Penzance and Fleta in Iolanthe with Kathleen Naylor.Following Miss Naylor's departure at the end of the season, Miss Dean assumed a repertoire consisting of First Bridesmaid in Trial by Jury, Isabel in Pirates, Fleta in Iolanthe, Sacharissa in Princess Ida, Peep-Bo in The Mikado, Ruth in Ruddigore, and Giulia in Gondoliers. She yielded Peep-Bo to Aileen Hynes in August 1939, though she did substitute in the role in January 1940, but she reclaimed the part in December 1943.In the meantime, she had added the Lady Saphir to her roles in September 1940 when Ivy Sanders left the Company.
Miss Dean gave up Saphir to Doreen Binnion in September 1944, but continued to appear as Isabel, Fleta, Peep-Bo, and Giulia in a scaled-back wartime repertoire until March 1945, when she left the Company.
---
D Index | "D'Oyly Carte Who Was Who" Home Page
---