THE D'OYLY CARTE OPERA COMPANY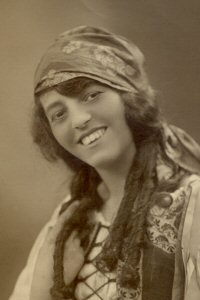 Phyllis Dean in The Gondoliers
Phyllis Dean (1940-47)
[Born 1900]
Mezzo-soprano Phyllis Dean began her stage career with McDonald Young's Musical Comedies, appearing in such productions as The Caberet Girl. She made what may have been her London debut at the Alhambra in August 1931 as a chorister in the immensely popular Waltzes From Vienna. Waltzes From Vienna played twice daily until June 1932, a total of 607 performances.
Miss Dean joined the D'Oyly Carte Opera Company chorus in March 1940, serving until August 1947. For the two seasons spanning August 1942 and July 1944 she occasionally appeared in the small parts of Leila in Iolanthe and Vittoria in The Gondoliers.She also appeared from time to time between August 1941 and August 1945 as Inez in The Gondoliers while the regular Inez (Caryl Fane) was filling in as the Duchess of Plaza-Toro.
During and after World War II Miss Dean performed in ENSA shows. Upon leaving the stage, she moved to Hadleigh, Suffolk, and entered the civil service.
---
D Index | "D'Oyly Carte Who Was Who" Home Page
---