THE D'OYLY CARTE OPERA COMPANY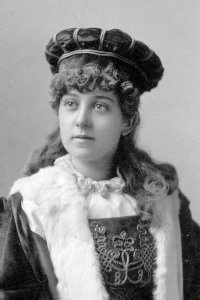 Hattie Delaro as Melissa in Princess Ida
Hattie Delaro (1881, 1882, 1885-86, 1887)
[Born Brooklyn, New York 1861, died New York City 18 Apr 1941]
Hattie Delaro had four separate engagements with the D'Oyly Carte Opera Company in America during the 1880s.Her first, and probably her first appearance on the New York Stage, was as one of the Charity Girls with Messrs. R. D'Oyly Carte and E. E. Rice's First Billee Taylor Company at the Standard Theatre, February-May 1881. She was also in the chorus of the original D'Oyly Carte New York production of Iolanthe (also at the Standard) in November 1882, then the next month joined Collier's Comic Opera Company in Boston, playing Leila in the Carte-sanctioned production of Iolanthe that opened the Boston Bijou Theatre. From November 1885 to March 1886 she appeared at the Hollis Street Theatre, Boston, as Pitti-Sing for D'Oyly Carte's Second American Mikado Company, and in 1887 she toured New York and New England with Carte's Third American Ruddygore Company. In Ruddygore she appeared first in April as Rose Maybud, but by the time the Company reached Rochester, New York, on May 4, she had been demoted to Zorah.
She also appeared as Melissa in the D'Oyly Carte-sanctioned New York production of Princess Ida staged by John Stetson at the Fifth Avenue Theatre in 1884.
In subsequent years she appeared in a repertoire of twenty-six operas at the Tivoli Opera House, San Francisco.Returning to the eastern U.S., she performed with Rice's Surprise Party and the J. C. Duff Opera Company and appeared in support of Lillian Russell in Alfred Cellier's Dorothy at the Standard in New York and on tour in 1888. Later she appeared in Mam'selle Hawkins, Around the World in Eighty Minutes, The Man in the Moon, and A Tailor Made Man. Between 1913 and 1926 she appeared in some 20 films, none of them memorable.
---
D Index | "D'Oyly Carte Who Was Who" Home Page
---