THE D'OYLY CARTE OPERA COMPANY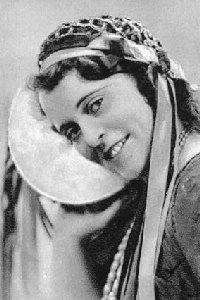 Doreen Denny as Elsie Maynard in The Yeomen of the Guard
Doreen Denny (1932-36)
[Born Brighton c.1905]
Doreen Denny made her London Stage debut in 1929 at the Lyceum in as Gerhilde in Die Walkure and Countess Ceprano in Rigoletto. In 1931, again at the Lyceum, she again sang the Countess while also appearing as Lola in Cavalleria Rusticana.
She joined the D'Oyly Carte Opera Company chorus in March 1932, giving occasional performances as Phyllis in Iolanthe, Zorah in Ruddigore, and Kate in The Yeomen of the Guard during the next three months.In August 1932 she began to play several parts on a more or less regular basis: the Plaintiff in Trial by Jury, the Lady Ella in Patience, Celia in Iolanthe, Lady Psyche in Princess Ida, Zorah in Ruddigore, Kate in Yeomen, and Fiametta in The Gondoliers, while also giving the occasional Phyllis in Iolanthe. During the 1932-33 season she shared the Plaintiff, Ella, and Kate with Kathleen Frances.
In 1933-34, Miss Denny yielded Ella and Kate to Dorothy Kingston, but played the Plaintiff, Celia, Psyche, Zorah, and Fiametta on a full-time basis. The following season she played the same five roles, though she shared Celia and Zorah with Miss Frances who had returned after a year's absence.
Miss Denny began the next season in August 1935 singing leading soprano roles:the Plaintiff (now split with Ann Drummond-Grant), Patience in Patience, Phyllis in Iolanthe, Psyche, Yum-Yum in The Mikado (shared with Miss Frances), Elsie Maynard in The Yeomen of the Guard, and Gianetta in The Gondoliers:but it was not to last long. The Company brought in Brenda Bennett in January 1936 and Sylvia Cecil in May. Doreen Denny left the D'Oyly Carte for good in June 1936.
---
D Index | "D'Oyly Carte Who Was Who" Home Page
---