THE D'OYLY CARTE OPERA COMPANY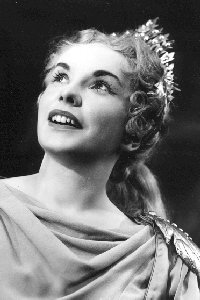 Beryl Dixon as Melissa in Princess Ida
Beryl Dixon (1951-60)
[Born Stockton-on-Tees 30 Dec 1930]
Beryl Irene Dixon joined the D'Oyly Carte Opera Company in September 1951 as a chorister and understudy, but also playing the part of Peep-Bo in The Mikado. It was a part she played throughout her nine years with the Company.In September 1953 she added Leila in Iolanthe, another part she would retain for the remainder of her D'Oyly Carte career, and in September 1954 she assumed her largest role to date:Melissa in the new production of Princess Ida.During the 1954-55 season she also filled in on occasion for principal mezzo-soprano Joyce Wright as Edith in The Pirates of Penzance, Iolanthe in Iolanthe, Pitti-Sing in The Mikado, Mad Margaret in Ruddigore, Phoebe Meryll in The Yeomen of the Guard, and Tessa in The Gondoliers.In September 1956, when Princess Ida was dropped temporarily from the repertoire, Miss Dixon took on another principal soubrette role:the Lady Angela in Patience:as well as another smaller part:Ruth in Ruddigore.
She played all her roles:Angela, Leila, Melissa (except when out of the repertoire), Peep-Bo, and Ruth:until she left the Company in July 1960. She continued to fill in on occasion over the years as Mad Margaret in Ruddigore, Phoebe Meryll in The Yeomen of the Guard, and Tessa in The Gondoliers.
Beryl Dixon participated in four D'Oyly Carte recordings. She may be heard as Mrs. Partlet (The Sorcerer, 1953), Melissa (Princess Ida, 1955), Pitti-Sing (Mikado, 1957), and Edith (Pirates, 1957). The latter two roles are somewhat surprising since she never played them on stage:they were played by Joyce Wright at the time.
She married fellow D'Oyly Carte performer Fred Sinden.Upon her retirement from the D'Oyly Carte, the Sindens settled near West Hartlepool. She has directed many amateur productions of G&S, as well as other operettas and musicals, in the British Isles. She ran her own speech and drama school in South Durham and Yorkshire for 15 years, taught a G&S course for the National Operatic & Dramatic Association, and has also served as a festival adjudicator.
---
D Index | "D'Oyly Carte Who Was Who" Home Page
---