THE D'OYLY CARTE OPERA COMPANY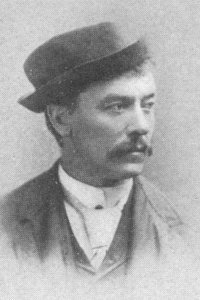 Fred Dixon
Fred Dixon (1881, 1882)
[Born London c.1848, died Quincy, Massachusetts 28 Apr 1901]
Fred Dixon made his New York stage debut with Mahn's English Opera Company in May 1880, appearing as Lotteringhi in Boccacio (Union Square Theatre), after earlier appearing in Brooklyn with Mahn in Fatinitza (March 1880). He returned to the Union Square as Admiral Sneak in Cellier's The Sultan of Mocha in September 1880.
Dixon may have made his first appearance under D'Oyly Carte auspices in 1881 as a chorister in Billee Taylor.A Mr. Dixon was in the chorus with one of two R. D'Oyly Carte and E. E. Rice Opera Companies playing Billee Taylor in America in the spring of 1881. Fred Dixon certainly appeared with the D'Oyly Carte the following year:as Boscatt in Stephens and Solomon's Claude Duvall at New York's Standard Theatre (March-April 1882). He had earlier appeared on tour in Patience with the Comley-Barton Opera Company (December 1881-January 1882).
Fred Dixon later toured with the Boston English Opera Company (1882-83), and in February 1884 appeared in The Pirates of Penzance as Major General Stanley with the People's English Opera Company at New York's Twenty-third Street Theatre. H.M.S. Pinafore was announced for February 28, but on the 27th it was learned that the People's Company had been "temporarily disbanded." He also appeared on tour as King Portico in Gilbert & Clay's Princess Toto (Chicago Museum, May 1884).
Dixon then went into stage management, where he is best remembered for his staging of the Bostonians' original production of Smith and de Koven's Robin Hood (1889-90). Dixon continued to appear on stage on occasion at least until February 1892 when he was at the Novelty Theatre, Brooklyn, in The Black Hussar.
---
D Index | "D'Oyly Carte Who Was Who" Home Page
---