THE D'OYLY CARTE OPERA COMPANY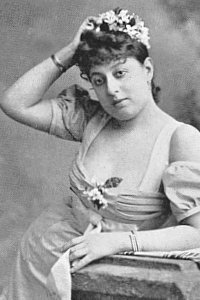 Selina Dolaro
Selina Dolaro (1875-76, 1882)
[Born London 20 Aug 1849, died New York City 23 Jan 1889]
Selina Dolaro made her first appearance on the London Stage in 1870 as Galsuinda, the Spanish Princess, in Herve's Chilperic at the Lyceum in 1870. Over the next few years she attained stardom at various theatres in London, and in March 1875 was the Director of the Royalty Theatre and starring in the title role in Offenbach's La Perichole, when her theatre manager, Richard D'Oyly Carte added Trial by Jury to the bill, thus launching the greatest partnership in the history of British Musical Theatre. Her father, Benjamin Simmonds, was the musical director at the Royalty at the time.
When the Royalty was closed between June 13 and October 10, 1875, Madame Dolaro's company went on tour. When they returned to the Royalty in October, Charles Morton took over as manager. Selina Dolaro, with Carte as one of her mangers, took over the Royalty again in January 1876 to play The Duke's Daughter, with Madame Dolaro as Malvina.They moved The Duke's Daughter to the Globe where it played in February and March. Miss Dolaro's association with D'Oyly Carte in England ended with that production.
Madame Dolaro continued to perform in London and on tour. She appeared in London at the Alhambra in 1877 and the Folly (where she also managed) in 1879.She went to America later that year, appearing at New York's Academy of Music in October as Carmen. Her voice lacked the volume for grand opera, however, and she soon joined a comic opera troupe on tour before returning to London, where she appeared as Cerisette in Farnie & Genee's The Naval Cadets, which opened at the Globe on March 27, 1880.
She shortly returned to America, where she was a regular on the New York Stage in comic opera for the next several years. After a short season of vaudeville at the Bijou in the Spring of 1882, she was engaged by D'Oyly Carte again to sing Girola in Bucalossi's Les Manteaux Noirs (September-October 1882), and Katrina in Planquette's Rip Van Winkle (October-November 1882) in Carte's New York productions at the Standard Theatre.
Her last role as an actress was Minnie Marden in an adaptation of Sardou's Agnes in 1886. But her health soon began to decline. Her last appearance on the New York Stage was as a "super" in a star-studded benefit production of Hamlet for Lester Wallack at Daly's in May 1888. She died of a stroke in January 1889.
Selina Dolaro was the author of a play called In the Fashion (later simply Fashion), performed at the Madison Square and Wallack's Theatres in 1887-88. Her "Mes Amours" was published in 1888, and her novel "Bella Demonia" was published by Lipincott's Magazine shortly after her death.
---
D Index | "D'Oyly Carte Who Was Who" Home Page
---