THE D'OYLY CARTE OPERA COMPANY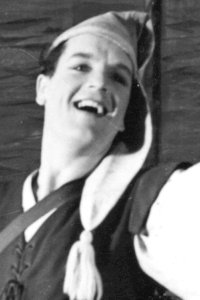 Charles Dorning as Giuseppe in The Gondoliers
Charles Dorning (1947-49)
[Born Salisbury, Rhodesia 22 Jul 1915, died Frankston, Victoria, Australia 2012]
Vivian Charles Goodwin-Dorning left his home in South Africa for London at age 17 to seek a stage career. His first engagement was with the Richmond (Surrey) Repertory Company, followed by a stint with the Elizabethan Stage Society, before joining the Carl Rosa Opera Company during their season at the Lyceum, presumably in the chorus.In 1943 he achieved his first big London success, as the Viscount Camille de Jolidon in The Merry Widow at His Majesty's Theatre. In 1945 he took a leading part in Sweet Yesterday at the Adelphi on short notice, then toured in The Lisbon Story before returning to the Adelphi in 1946 as Count Simon in Can-Can.
He joined the D'Oyly Carte Opera Company in March 1947 to take over several of the light baritone parts from Leslie Rands who was approaching the end of his career. During his first five months with the Company Dorning played the Counsel to the Plaintiff in Trial by Jury, Archibald Grosvenor in Patience, Strephon in Iolanthe, and Giuseppe in The Gondoliers on a regular basis, also making an occasional appearance as the Earl of Mountararat in Iolanthe.
By the time the next season began in September 1947, Rands was gone and Dorning had the Counsel, Grosvenor, Strephon, Giuseppe, as well as Pish-Tush in The Mikado, to himself, and shared Captain Corcoran in H.M.S. Pinafore with Richard Watson. In September 1948, he added the Lieutenant of the Tower in The Yeomen of the Guard while Watson moved on to take Wilfred Shadbolt.
In April 1949, while the D'Oyly Carte was in Bristol, Dorning was rushed to the hospital and was replaced temporarily by his understudy Alan Styler in most of his roles. Richard Watson filled in as Captain Corcoran, Donald Harris was the Lieutenant, and Richard Walker returned to the Company to take Grosvenor. Dorning returned to the Company briefly in May, but left the Carte organization later that month when the Company returned to London. He was replaced at that point by Richard Walker, though Watson was again Captain Corcoran, and Styler took Strephon.
After his D'Oyly Carte seasons, Dorning was cast by Noel Coward in his revival of Bitter Sweet, touring the British provinces in the leading role. In 1950 he joined J. C. Williamson's Company to play the lead in the Australian production of Song of Norway opposite Nina Cooke, whom he subsequently married.
Dorning later worked as Concert Manager with the Tivoli circuit, before being appointed Manager of Williamson's London office in 1958. In 1961 he took over as Director of the London office, and joined the J. C. Williamson Theatres Limited Board of Directors in 1965. The Dornings later retired and lived in Frankston, Victoria, Australia. Charles Dorning died there in 2012.
---
D Index | "D'Oyly Carte Who Was Who" Home Page
---