THE D'OYLY CARTE OPERA COMPANY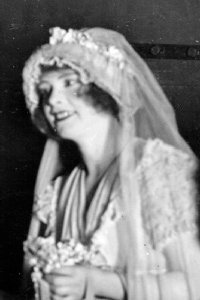 Winifred Downing in Ruddigore
Winifred Downing (1919-22)
Winifred Downing joined the D'Oyly Carte Repertory Opera Company in February 1919 as a member of the chorus and small part player.During her first half season she appeared regularly as Kate in The Pirates of Penzance and Giulia in The Gondoliers.
In her first full season with the Company (July 1919-June 1920), she expanded her repertoire of named parts to include the First Bridesmaid in Trial by Jury, Kate in Pirates, Leila in Iolanthe, Chloe in Princess Ida, and Vittoria in The Gondoliers, though she still appeared occasionally as Giulia in the latter opera that year.In 1920-21, Miss Downing added the Lady Saphir in Patience and Ruth in Ruddigore.
Miss Downing then transferred to the D'Oyly Carte "New" Opera Company in June 1921 as its principal soubrette:playing Edith in The Pirates of Penzance, Iolanthe in Iolanthe, Phoebe Meryll in The Yeomen of the Guard, and Tessa in The Gondoliers on tour until February 1922 when she returned to the Repertory Company.On her return she assumed only Vittoria among her old roles. In April 1922 she left the D'Oyly Carte organization.
---
D Index | "D'Oyly Carte Who Was Who" Home Page
---