THE D'OYLY CARTE OPERA COMPANY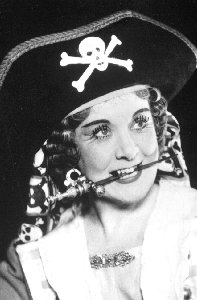 Ann Drummond-Grant as Ruth in The Pirates of Penzance
Ann Drummond-Grant (1933-38, 1950-59)
[Born Edinburgh 11 Nov 1904, died London 11 Sep 1959]
Ann Drummond-Grant had two separate and distinct careers in the D'Oyly Carte Opera Company:the first (from 1933 to 1938) as a soprano chorister who slowly worked her way up to leading soprano parts but left the Company just sixteen months after attaining them; the second (from 1950 to 1959) beginning as a contralto chorister and understudy who after one year assumed all the principal contralto roles and played them with great success until she was too ill to perform in 1959. In between her D'Oyly Carte engagements, she married the Company's Musical Director.
After studying singing in her native Scotland, Ann Drummond-Grant sang for five years as leading soprano in a parish church, played in second-tier opera and musical comedy, and did some radio singing and concert work, before joining the D'Oyly Carte Opera Company chorus in March 1933. In August 1936, she took over the small parts of Celia in Iolanthe, Zorah in Ruddigore, and Fiametta in The Gondoliers from Doreen Denny, who had moved up to principal soprano roles in Iolanthe and Gondoliers.During the 1935-36 season Miss Drummond-Grant also shared the parts of the Plaintiff in Trial by Jury and Lady Psyche in Princess Ida with Doreen Denny until Miss Denny left the Company in June 1936. Miss Drummond-Grant played the Plaintiff, Celia, Psyche, Zorah, and Fiametta through July 1937. During the two years from August 1935 to July 1937 she also made occasional appearances in more prominent soprano roles:as Josephine in H.M.S. Pinafore, Patience in Patience, Princess Ida in Princess Ida, and Gianetta in The Gondoliers.
When Sylvia Cecil left the Company in at the end of the 1936-37 season, Ann Drummond-Grant became one of D'Oyly Carte's two principal sopranos. She began the season as the Plaintiff, Josephine, Patience, Phyllis (shared with Brenda Bennett), Princess Ida, and Elsie Maynard in The Yeomen of the Guard. In May 1938, the Company added a third principal soprano, Viola Wilson, who took a share of Patience and Phyllis, however Ann Drummond-Grant was selected to play Aline when The Sorcerer was revived briefly in June 1938.
When the next season started in September 1938, it was clear that Ann Drummond-Grant was being phased out of the principal soprano roles. Brenda Bennett had left the Company but Viola Wilson was still around, Margery Abbott was now taking bigger roles, and a new soprano, Helen (Betty) Roberts, had joined the line-up.Ann Drummond-Grant lost Josephine to Betty Roberts, and she had to share two of her remaining parts (Phyllis with Miss Wilson and Elsie with Miss Roberts). She left the Company in November 1938.
During her lengthy hiatus from the Company she worked for a time in legitimate theatre and musical comedy, and (in the summer of 1940) she married Isidore Godfrey, the long-time D'Oyly Carte Musical Director.Ten years later, in August 1950, she returned to the D'Oyly Carte:this time not as a soprano, but as a contralto chorister and understudy to Ella Halman. She gave a few fill-in performances as Ruth in The Pirates of Penzance, Katisha in The Mikado, Dame Carruthers in The Yeomen of the Guard and the Duchess of Plaza-Toro in The Gondoliers during her first year back.
In 1950 and 1951, Ann Drummond-Grant recorded four mezzo-soprano roles that she never played on stage:Mad Margaret in Ruddigore, Phoebe Meryll in The Yeomen of the Guard, Iolanthe in Iolanthe, and the Lady Saphir in Patience.
Then in September 1951, following Miss Halman's departure from the Company, Ann Drummond-Grant became its principal contalto, appearing in all the full-length operas over the next seven and a half years as Little Buttercup in H.M.S. Pinafore, Ruth in Pirates, the Lady Jane in Patience, the Queen of the Fairies in Iolanthe, Lady Blanche in Princess Ida (starting in 1955 when a new production was unveiled), Katisha in The Mikado, Dame Hannah in Ruddigore, Dame Carruthers in Yeomen, and the Duchess in Gondoliers.She recorded three of them:Lady Blanche (1955), Katisha (1957), and Ruth (1957), as well as Lady Sangazure in The Sorcerer (1953), an opera that the Company never performed on stage during the 1950s.
Ann Drummond-Grant was by all indications universally respected and beloved by her fellow cast members, many of whom benefited from her gentle advice and assistance. Darrell Fancourt described her as "one of the very few people who have sung the contralto parts 'not as hard, beastly women but with true understanding of their light and shade.'" She gave her last performance with D'Oyly Carte on May 23, 1959, in Bournemouth, before being forced from the stage by the illness that would claim her life less than four months later at the age of 54.
---
D Index | "D'Oyly Carte Who Was Who" Home Page
---