THE D'OYLY CARTE OPERA COMPANY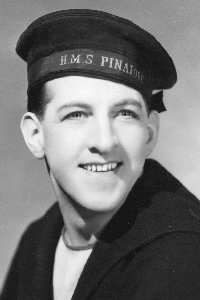 John Dudley as Ralph Rackstraw in H.M.S. Pinafore
John Dudley (1937-39)
[Born Ballarat, Victoria, Australia 26 Nov 1905, died Sydney, New South Wales 28 Jun 1994]
John Dudley performed on the concert platform, on the stage, and in radio in his native Australia before coming to England.Prior to joining the D'Oyly Carte Opera Company as principal tenor, he appeared in a musical play at the Palace (At the Silver Swan, 1936) and in grand opera at the Royal Opera House, Covent Garden, where in 1936 and 1937 he sang named parts in Boris Godunov, Pickwick, Pagliacci, and Parsifal.
He joined the D'Oyly Carte Opera Company in June 1937 during the London season at Sadler's Wells, where he gave occasional trial shows as Nanki-Poo in The Mikado and Marco in The Gondoliers. When Derek Oldham left for the 1937-38 season, Dudley took over as Prince Hilarion in Princess Ida and as Marco, while also appearing as Ralph Rackstraw in H.M.S. Pinafore, Nanki-Poo, Richard Dauntless in Ruddigore, and Colonel Fairfax in The Yeomen of the Guard (roles he shared with John Dean).
In the 1938-39 season, Dudley's last with the Company, he appeared regularly as Ralph, Hilarion, Nanki-Poo, and Marco, while continuing to share Dick Dauntless with Dean. He left the D'Oyly Carte in July 1939.
Dudley later spent four seasons in America with New York's Metropolitan Opera. Between December 1940, when he made his debut as a student in Louise, and May 1944, he appeared in 235 performances at the Metropolitan Opera House and elsewhere, taking 28 roles in 24 different operas. He may be heard on several recordings of live Met productions.
---
D Index | "D'Oyly Carte Who Was Who" Home Page
---