THE D'OYLY CARTE OPERA COMPANY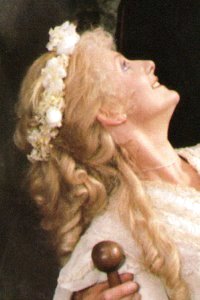 Sandra Dugdale as Rose Maybud in Ruddigore
Sandra Dugdale (1981-82)
[Born Pudsey, Yorkshire 4 Jan 1946]
Sandra Dugdale studied at Leeds and at the Guildhall School of Music and Drama in London. She made her operatic debut with Glyndebourne Touring Opera in Cosi fan Tutti, and was a principal soprano with English National Opera for several years.
Miss Dugdale's lone engagement with the original D'Oyly Carte Opera Company was a guest appearance as Phyllis in Iolanthe at the Adelphi during the Company's last season. She appeared from December 1981 to February 1982.
Later that year she appeared in four Brent Walker G&S video productions:as Patience in Patience (a role she also played with English National Opera), Celia in Iolanthe, Rose Maybud in Ruddigore, and Casilda in The Gondoliers. She made her Covent Garden debut in 1983, and has appeared at festivals throughout Europe and in Hong Kong and in numerous television productions.
In 1989 she recorded eight Gilbert & Sullivan roles for BBC Radio:Aline in The Sorcerer, Patience in Patience, Iolanthe in Iolanthe, Rose Maybud in Ruddigore, Kate in The Yeomen of the Guard, Gianetta in The Gondoliers, Princess Zara in Utopia Limited, and Lisa in The Grand Duke.
In 1990 Miss Dugdale was engaged by the "New" D'Oyly Carte, appearing as Yum-Yum in The Mikado and the Plaintiff in Trial by Jury for one season. In 1991 she appeared at Gawsworth as Mabel in The Pirates of Penzance.
She made her West End debut in 1992, spending a year playing as Carlotta in The Phantom of the Opera, a role she returned to in 1994 in Manchester.
---
D Index | "D'Oyly Carte Who Was Who" Home Page
---