THE D'OYLY CARTE OPERA COMPANY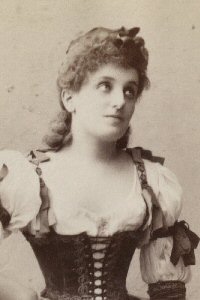 Mary Duggan as Tessa in The Gondoliers
Mary Duggan (1879-81, 1883-84, 1887-88, 1890-93)
[Born Dublin c.1860]
Mary Josephine Duggan joined "Mr. D'Oyly Carte's 2nd London" Company for a tour as Josephine in H.M.S. Pinafore from December 1879 to February 1880. When the tour ended she transferred to Carte's "D" Company, with whom she toured from March 1 to December 11, 1880, this time as Constance in The Sorcerer, Hebe in Pinafore, Mrs. Liverby in In the Sulks, and Muriel Dalgleish in Six and Six. She then moved to Mr. D'Oyly Carte's "A" Company, where she continued to appear as Hebe until she left the Company in March 1881. She married D'Oyly Carte bass-baritone Evelyn Vernon in December 1880.
Her second engagement with the D'Oyly Carte organization was with Carte's newly-formed No. 1 "Iolanthe" Company in February 1883. She was Leila in the fairy opera and Mrs. Nankeen Worcester in Grossmith's Cups and Saucers until the December 1883, while also filling in for Laura Clement as Phyllis in Iolanthe briefly in August 1883. She returned to the No. 1 "Iolanthe" cast list in November 1884, this time to replace Geraldine St. Maur as Celia in Iolanthe, but left the Carte organization in December 1884 when the Company was disbanded.
It appears she remained active in the theatre during the next few years both on tour and in London where she was the original Nan in a comic opera called Indiana (Avenue Theatre, 1886).
She was next engaged by D'Oyly Carte for a lengthy Continental tour:playing Hebe in H.M.S. Pinafore, Angela in Patience and Pitti-Sing in The Mikado for audiences in Germany, Austria, Holland, and Denmark between April 1887 and February 1888.
After another gap in service, she returned to the D'Oyly Carte fold in 1890 when she was called upon to help bail out Carte's ailing New York production of The Gondoliers. A weak cast at the Park Theatre had been poorly received by the New York press and theatre-going public. The opera was restaged at Palmer's Theatre in February 1890, where it ran with some success until April with Miss Duggan as Tessa. The Company returned to the British Isles in May, giving The Gondoliers until July 1890, at which point Miss Duggan transferred to D'Oyly Carte Opera Company "C." With Company "C" she continued to tour as Tessa, adding new roles as additional operas joined the repertoire--Pitti-Sing in The Mikado (December 1890) and Phoebe Meryll in The Yeomen of the Guard (January 1891).
She next transferred to Carte's Company "D," presenting The Nautch Girl from August to December 1891, with Miss Duggan as Chinna Loofa, after which she took her only D'Oyly Carte London role as the original Nelly Bly in The Vicar of Bray at the Savoy (January to June 1892).
In August 1892 she resumed touring with D'Oyly Carte Opera Company "C" in her now familiar roles of Angela, Pitti-Sing, Phoebe, and Tessa. She added Iolanthe in Iolanthe in January 1893 and Edith in The Pirates of Penzance in May 1893, before leaving the D'Oyly Carte for the last time in September of that year.
Later she appeared in a five-act melodrama, How London Lives, at the Princess's Theatre, London (December 1897-April 1898), and in the same work at the same theatre in a January 1900 revival. Miss Duggan and her husband continued to perform well into the 20th Century. When they toured with the "Miss Tommy" Company in 1907-08 the Company included their daughter Norah (born 1888).
---
D Index | "D'Oyly Carte Who Was Who" Home Page
---