THE D'OYLY CARTE OPERA COMPANY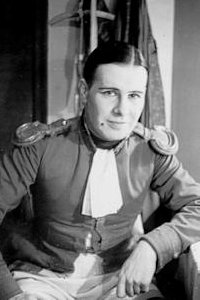 Richard Dunn as Luiz in The Gondoliers
Richard Dunn (1933-41, 1947-49)
[Born c.1909, died Dec 1970]
Baritone Richard Dunn joined the D'Oyly Carte Opera Company chorus in March 1933. He was off the payroll between April and June 1935, but appears to have returned for the 1935-36 season. At some point in the that season he assumed the part of Antonio in The Gondoliers, and in June 1936 added Mr. Cox in Cox and Box, assuming the role from George Cammidge. Dunn played both Cox and Antonio throughout the following season, but during the 1937-38 season he yielded them to William Sumner.That year Dunn filled in on one occasion as the Earl of Mountararat in Iolanthe (December 1937), and swapped the part of Antonio fo Luiz in The Gondoliers (February 1938).He assumed the part of Luiz in September 1938, playing it as his only named part until August 1939 when he added the Counsel for the Plaintiff in Trial by Jury.In August 1940 he took on the small additional part of Second Citizen in The Yeomen of the Guard, but he left the Company in March 1941 when called into military service.
Dunn returned to the D'Oyly Carte Opera Company in September 1947, and for the next year-and-a-half appeared regularly as Cox, Samuel in The Pirates of Penzance, Second Yeoman in The Yeomen of the Guard, and Annibale in The Gondoliers. He also filled in from time to time as Mountararat (1947-49), and as Counsel to the Plaintiff (1947) and the Learned Judge (1948-1949) in Trial by Jury.Richard Dunn left the D'Oyly Carte for good in April 1949.
Dunn next performed in London as a singer in Herbert & Ellis's musical play Tough at the Top (Adelphi, July-November 1949). His only subsequent role on the London Stage came in May 1957 when he played the Commissioner in Leo Marks's play The Best Damn Lie at the Winter Garden.
For the last ten years of his life Richard Dunn produced the Savoy operas for the Plymouth Gilbert & Sullivan Fellowship, his last production being an open-air Yeomen of the Guard for the City's 1970 Mayflower celebrations.
---
D Index | "D'Oyly Carte Who Was Who" Home Page
---