THE D'OYLY CARTE OPERA COMPANY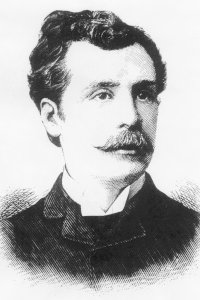 Michael Dwyer.
Michael Dwyer (1878-79)
[Born London c.1854, died 14 Nov 1926]
Michael Dwyer made his professional debut as a chorister, and as Rutland Barrington's understudy, in H.M.S. Pinafore at the Opera Comique in June 1878, filling in that month as Captain Corcoran when Barrington was ill. In September of that year he transferred to Carte's touring Comedy-Opera Company as Doctor Daly in The Sorcerer and the Captain in the first provincial production of H.M.S. Pinafore.The tour lasted until December, but the Comedy-Opera Company was revived again to play Pinafore in April and May 1879, and yet again in July, both times with Dwyer as the Captain.
In August 1879, however, the directors of the Comedy-Opera Company launched a rival production of H.M.S. Pinafore at the Imperial Theatre, and lured Dwyer to London to play Captain Corcoran for them. He also shared the part of Old Matthew in the afterpiece Breaking the Spell. The rival Pinafore ran a month there before transferring to the Royal Olympic, ultimately closing in October for lack of support. Dwyer never returned to the D'Oyly Carte.
Dwyer appeared often in London and the provinces throughout the 1880s and '90s. After as season of grand opera in Liverpool, he was engaged by Mme. Emily Soldene in February 1882 to play the Toreador in Carmen at the Standard Theatre, thereafter supporting her as principal baritone for nearly two years. Dwyer was the original Buckingham in Farnie & Planquette's Nell Gwynne (Avenue, 1884) and Vincent Knapps in La Cigale (Lyric, 1890). He also appeared in London in Love and Law (Lyric, 1891), The Belle of Cairo (Court, 1896), and The Maid of Glendalough (a single matinee performance at the Prince of Wales's, 1899). In New York, he was John Brown in Ivan Caryll's musical farce The Shop Girl (Palmer's, 1895).
The baritone Dwyer was the original Paul Jones in the opera of that name when it was produced by the Carl Rosa Company in Bolton (December 1888). (When Paul Jones was produced the following month in London the title role was played by contralto Agnes Huntingdon.)
Dwyer also composed for the theatre.He wrote the music for The Duke's Diversion, a comedy opera with book by fellow D'Oyly Carter George Mudie in which they both appeared on tour in 1892; and Mr. Greenlea's Courtship (a musical duologue, 1891, also with book by Mudie); and collaborated on the music for the musical play The Belle of the Ball, performed on tour in 1908.
---
D Index | "D'Oyly Carte Who Was Who" Home Page
---