THE D'OYLY CARTE OPERA COMPANY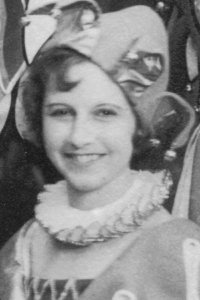 Rosalie Dyer
Rosalie Dyer (1926, 1940-50)
[Died 199x]
Rosalie Dyer served in the D'Oyly Carte Repertory Opera Company chorus from May to December 1926, and again from August 1940 to July 1950.
Between 1931 and 1932 she had several appearances in the chorus and small parts at Daly's Theatre, London.In 1934 she was O Kinkoto San in a revival of The Geisha at the Garrick, was in the chorus for The Quaker Girl at the Garrick and the Winter Garden, and also in the chorus for a revival of Hood & German's Merrie England at the Princes. Later Miss Dyer appeared as Henri in a 1935 revival of La Poupee at His Majesty's, and a singer in the operetta Paganini (Lyceum, 1937).
During her second stint with the D'Oyly Carte, she appeared in several named parts for a time:Isabel in The Pirates of Penzance (1945-1947), the Ladies Saphir (on occasion 1943 and 1944) and Ella (1944-1945 and 1946-1947) in Patience, Fleta in Iolanthe (1946-1947, and on occasion 1948-49), Pitti-Sing in The Mikado (on occasion 1945 and 1948-49), and Kate in The Yeomen of the Guard (1944-1945, 1947-1948, and on occasion 1948-49).During most of these stretches she shared her parts with other artists.
---
D Index | "D'Oyly Carte Who Was Who" Home Page
---