THE D'OYLY CARTE OPERA COMPANY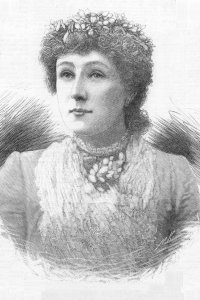 Florence Dysart as the Plaintiff in Trial by Jury
Florence Dysart (1881-83, 1884-85)
Florence Dysart made her professional debut as the Lady Ella on tour with Mr. D'Oyly Carte's No. 2 "Patience" Company on November 28, 1881. She resigned her engagement in March 1883, and joined Alfred Hemming's Comedy Company where she played Mrs. Pounceby in Mother in Law and the singing parts in Hemming's burlesques. After a summer tour with George Walton in Crutch and Toothpick and Mother in Law, she was back with Mr. Hemming for another round of principal parts.
In February 1884, she returned to the D'Oyly Carte fold, taking the title role in Princess Ida on tour with Carte's "A" Company. She must have done well.She was next called to the Savoy where she appeared as the Plaintiff in the revival of Trial by Jury (October 1884-March 1885). She appears to have left the D'Oyly Carte Opera Company when the revival ended and The Mikado opened.
Miss Dysart continued to work in musical theatre in London and on tour for the next twelve years. Her London roles included Queen Henrietta in Oliver Grumble (1886), Lydia Hawthorne in Cellier's Dorothy (1886-87, 1892, and a benefit matinee in 1897), Miss Esmeralda in Miss Esmeralda (1887 and 88), Viva in Frankenstein (1887-88), Barbara Bellasys in The Red Hussar (1889-90), Marie in Joan of Arc (1891-92), Ethel Sportington in Morocco Bound (1893), and Beatrix in My Girl (1896-97). She also appeared in two benefit productions of Trial by Jury in 1896, repeating her role as the Plaintiff in one of them.
---
D Index | "D'Oyly Carte Who Was Who" Home Page
---