THE D'OYLY CARTE OPERA COMPANY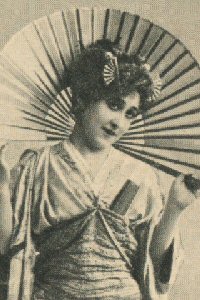 Gertrude de Lacey as Yum-Yum in The Mikado
Gertrude de Lacey (1894-98, 1900-01?, 1902-03)
[Born Belfast c.1875]
Gertrude de Lacey toured with D'Oyly Carte Opera Company "C" from May 1894 when she appeared briefly as Casilda in The Gondoliers until December 1896. Primarily a soprano chorister and understudy, she filled in on occasion as the Plaintiff in Trial by Jury, Kate in The Pirates of Penzance, the Lady Ella in Patience, Celia in Iolanthe, Lady Psyche in Princess Ida, Yum-Yum in The Mikado, Kate in The Yeomen of the Guard, and Casilda in January and November 1895. From December 1895 onward she appeared as Chloe in Princess Ida, and performed from time to time as Mabel in The Pirates of Penzance, Peep-Bo in The Mikado, and Casilda.
She joined Carte's main company at the Savoy in at some point in 1897, perhaps as early as May for the first revival of The Yeomen of the Guard, but certainly for The Grand Duchess of Gerolstein (December 1897-March 1898) and The Beauty Stone (May-July 1898).Her sister, Valerie, was in the chorus for Grand Duchess and Beauty Stone, but only one de Lacy was in the 1897 Yeomen revival and one de Lacy remained for the first revival of Patience (November 1900-April 1901) and the initial production of The Emerald Isle (April-November 1901). It's unclear which.
We do know that Gertrude de Lacey participated in the April 1902-May 1903 D'Oyly Carte tour of South Africa, taking the small parts of Salata in Utopia Limited and "Sigh-of-the-Sea" in The Rose of Persia, and Giulia in The Gondoliers. In March 1903, following Dolly Webb's departure, she assumed Isabel in The Pirates of Penzance and Peep-Bo in The Mikado, and swapped Giulia for Casilda in The Gondoliers.Her mother, Marie de Lacey, spent several years with the D'Oyly Carte including the 1902-03 South Africa tour.
Gertrude de Lacey later appeared in London as Joy in a single perfomance of the fairy pantomime The Triumph (Court Theatre, November 27, 1912).
---
D Index | "D'Oyly Carte Who Was Who" Home Page
---