THE D'OYLY CARTE OPERA COMPANY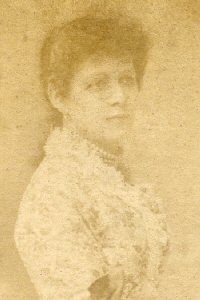 Marie de Lacey
Marie de Lacey (1883-92, 1901-03)
[Born Bavaria c.1851]
Marie de Lacey first appeared with D'Oyly Carte's "Patience" No. 2 Company as the Lady Angela in January, March, and October 1883 in place of Katie Cohen. She succeeded Miss Cohen in January 1884 and played the role on her own until June of that year when the Company was disbanded. She next joined Mr. D'Oyly Carte Opera "A" Company, appearing briefly in Princess Ida in 1885 as Lady Psyche (in August) and Chloe (in November).
Miss de Lacey joined the chorus at the Savoy at some point during the first run of The Mikado, presumably in 1886.She seems to have remained for Ruddigore (1887), The Gondoliers (1889-91), and The Nautch Girl (1891-92), and it appears likely she was present for the 1887-88 revivals of H.M.S. Pinafore, The Pirates of Penzance, and The Mikado, and for the original production of The Yeomen of the Guard (1888-89) as well.
She returned to the D'Oyly Carte fold one last time, serving in the chorus with the D'Oyly Carte Repertoire Opera Company in 1901, and for the April 1902-May 1903 tour of South Africa, in which she also took the small part of "Moon-upon-the-Waters" in The Rose of Persia.
She was the mother of D'Oyly Carte performers Gertrude and Valerie de Lacey.
---
D Index | "D'Oyly Carte Who Was Who" Home Page
---