THE D'OYLY CARTE OPERA COMPANY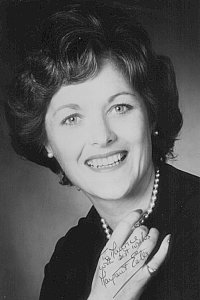 Margaret Eales
Margaret Eales (1963-65)
[Born Sunderland, County Durham 9 Jul 1941]
Soprano Margaret Eales studied at the Guildhall School of Music and Drama, London, where she was awarded the Ricordi prize for opera in 1963.
She joined the chorus of the D'Oyly Carte Opera Company in July 1963, and remained with the Company until June 1965, appearing as Celia in Iolanthe (from September 1963 forward) and Zorah in Ruddigore (beginning in April 1964), and filling in briefly as Fiametta in The Gondoliers during the 1964-65 season.When the D'Oyly Carte recorded The Yeomen of the Guard in 1964, Miss Eales sang the part of Kate, a role she never appeared in on stage.She was married for a time to fellow D'Oyly Carte artist Keith Bonnington.
Miss Eales left the D'Oyly Carte in June 1965 and joined the chorus of Sadler's Wells Opera (later English National Opera).She was given a principal contact in 1967, and over the next three years played such roles as Gilda in Rigoletto, Musetta in La Boheme, and the title role in the 1970 production of Patience.
In 1970 she left ENO and spent the next several years with various touring companies in such parts as Donna Anna in Don Giovanni, Rosalina in Die Fledermaus, Gretel in Hansel and Gretel, Michaela in Carmen, and Princess Helene in a ten-week major tour of A Waltz Dream.She also appeared as Rosina in a film version of Rossini's The Barber of Seville.
Miss Eales married Major Derek Taylor, Director of Music for the Welsh Guards, in 1981.She later performed with the London Concert Artists and may be heard on their 1986 Bandleader recording "Gilbert and Sullivan With Band and Voice" (BNA 5022), arranged and conducted by her husband, singing "O Goddess Wise" from Princess Ida and several concerted numbers.
In 1986 the Taylors moved to Tamworth, New South Wales, Australia, where Derek became director and Margaret head of singing at Tamworth Regional Conservatorium of Music.During her time in Tamworth, she formed the TRCM Opera Group, and directed some 35 productions of grand opera and operetta, including nearly all the well known Gilbert & Sullivan operas.In Australia she has also trained horses in dressage and competed at the National level.
Margaret continued to teach until retiring in 2002.She and her husband have since moved to the Sunshine Coast in Queensland, and she would love to hear from any of her former colleagues in the D'Oyly Carte or ENO via e-mail at tayjac@optusnet.com.au.
---
E Index | "Who Was Who" Homepage
---