THE D'OYLY CARTE OPERA COMPANY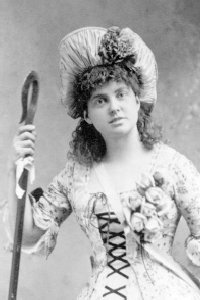 Janet Edmondson as Phyllis in Iolanthe
Janet Edmondson (1881-82)
Janet Edmondson's New York debut was in September 1880 in an unsuccessful "Musical Phalanx" at Brooklyn's Academy of Music.She later toured with Mahn's Comic Opera Company in Boccaccio and Donna Juanita, appearing in Boston and New York in May 1881.
Miss Edmondson joined D'Oyly Carte's New York cast of Patience at the Standard Theatre in October or November 1881 replacing Alice Burville as the Lady Angela.Still later in the run (February or March 1882), Miss Edmondson replaced Carrie Burton in the title role.When the opera closed on March 23, 1882, Miss Edmondson's association with D'Oyly Carte ended, but not her career in Gilbert & Sullivan.
She was engaged by Collier's Standard Opera Company for the inaugural production at the Bijou Theatre, Boston, where she played Phyllis in a Carte-authorized Iolanthe (December 1882-April 1883).Subsequent appearances at the Bijou included The Sorcerer (as Aline, June 1883), H.M.S. Pinafore (as Josephine, October 1883), and Iolanthe again (as Phyllis, November-December 1883), as well as several works by other writers and composers.
Little is known of her career after 1883, although she made a concert appearance at the Park Theatre, Boston, in March 1888.
---
E Index | "Who Was Who" Homepage
---