THE D'OYLY CARTE OPERA COMPANY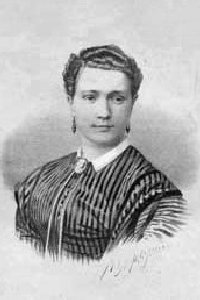 Fanny Edwards
Fanny Edwards (1878, 1881-87)
[Born Burnley, Lancashire 5 Oct 1843, died Yonkers, New York 28 Aug 1908]
Frances Wright Edwards began her performing career in 1866 on tour with entertainer Harry Clifton. Upon his death in 1872 she spent a number of years managing her own traveling entertainment companies, including "Miss Fanny Edwards' Entertainment and Comic Opera Company," with several performers (Michael Dwyer, Ethel Pierson, and Arthur Rousbey) who would later have tours with the D'Oyly Carte organization.
In September 1878 she joined the touring Comedy Opera Company Limited, under the management of Richard D'Oyly Carte, appearing as the first provincial Little Buttercup in H. M. S. Pinafore, and as Lady Sangazure in The Sorcerer until December of that year.
In August 1879, when the directors of the Comedy-Opera Company launched a rival production of H. M. S. Pinafore at the Imperial Theatre, they engaged Miss Edwards to play Buttercup for them. The rival Pinafore ran a month there before transferring to the Royal Olympic, ultimately closing in October for lack of public support. She later appeared at the Alhambra as the Duchesse della Volta in La Fille du Tambour Major (April 1880).
She returned to the D'Oyly Carte camp in August 1881, and for the next six years took leading contralto roles with various touring D'Oyly Carte companies:the Lady Jane in Patience (Mr. D'Oyly Carte's "D" Company, August-December 1881; and Carte's No. 1 "Patience" Company, February-August 1882 and March-November 1883), Isabel of Castille in Les Manteaux Noirs (Standard Theatre, New York, September-October 1882), the Queen of the Fairies in Iolanthe (Lyceum Theatre, Philadelphia, and Standard Theatre, New York, December 1882-February 1883), Lady Blanche in Princess Ida (Carte's "D" Company, February-December 1884, in the first provincial production, and February-May 1885), Lady Sangazure in The Sorcerer ("D" Company, February-May 1885), Katisha in The Mikado ("D" Company, July 1885-December 1886; and "C" Company, January-March 1887), and Dame Hannah in Ruddigore ("C" Company, March to July 1887). In September 1887 Miss Edwards filled in briefly for Rosina Brandram as Dame Hannah at the Savoy. It was her last role with the Company.
In September 1888 she created the part of Savillia dei Franchi in an operatic version of The Corsican Brothers at the Crystal Palace. She then moved to America where she appeared in many roles including several from the Savoy repertoire:as the Duchess of Plaza-Toro in The Gondoliers (Chicago, 1890), and with John Duff's touring company as Ruth in The Pirates of Penzance, Lady Jane, and Queen of the Fairies (all 1890), and Mrs. Partlett in The Sorcerer (1892).
---
E Index | "Who Was Who" Homepage
---