THE D'OYLY CARTE OPERA COMPANY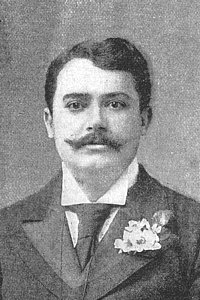 Ernest Bucalossi
Ernest Elton (m.d., 1883)
[Born London 27 May 1863, died Ottershaw, Surrey 15 Apr 1933]
Using the pseudonym Ernest Elton, Ernest Bucalossi (full name Procida Ernest Luigi Bucalossi) served as musical director for Mr. D'Oyly Carte's "Pinafore" and "Pirates" Company from January 1 to September 8, 1883.
The son of composer/conductor Procida Bucalossi (1832-1918), Ernest had earlier succeeded his father as conductor at the Prince of Wales's Theatre in 1881.For many years after his D'Oyly Carte experience (until 1928), he served as musical director for a variety of London theatres. He was also a successful composer of waltzes and other lighter works, most notably the waltz "La Gitana" and a small orchestral piece "The Grasshopper's Dance," a work for which he is still remembered today.
Ernest's progenitor, Procida, is well known to Gilbert & Sullivan aficionados as the arranger for Chappell & Co. of many of the dance arrangements (Lancers, Polka, Quadrille, Waltz) for the Savoy Operas, beginning with Princess Ida. As a composer, Procida's most successful work was the comic opera Les Manteaux Noirs ("The Black Cloaks"), Avenue Theatre, June-December 1882. In 1883, The Daily Telegraph described it as "the brightest and funniest opera that has been produced in London for years." Richard D'Oyly Carte thought well enough of it that he obtained the rights to produce Les Manteaux Noirs himself, both in the British provinces and in America.
---
E Index | "Who Was Who" Homepage
---