THE D'OYLY CARTE OPERA COMPANY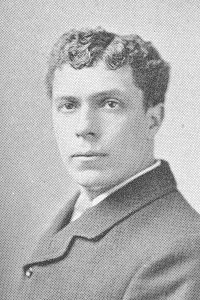 William Elton
William Elton (1897-98, 1898)
[Born c.1849, died 27 Jan 1903]
William "Billy" Elton got his start in the theatre at the age of 10 at the Adelphi Theatre, Liverpool, and by 1867 was a "low comedian" at the Queen's Theatre, Manchester. From 1872 to 1875 he toured in comedy and burlesque with Disney Roebuck, then went to South Africa.
Upon his return to England, he worked in Brighton for a time (1877-78), then Elton joined John Hollingshead's stable of comedians, appearing in numerous burlesques, comedies, and even a melodrama at the Gaiety in the late 1879 and 1880.
He next went to Wallack's Theatre, New York, where he made his American debut as Touchstone in As You Like It on September 30, 1880.He was a regular with Wallack's Company until May 1883 when he was given a benefit matinee and returned to London and the Gaiety for the 1883-84 season.
Elton then traveled to Australia. He appeared in Melbourne in October 1886 as J. W. Wells in The Sorcerer, perhaps his first Gilbert & Sullivan role.He subsequently appeared there in Billee Taylor, Charity Begins at Home, Cellier's Dorothy (as Lurcher), Princess Ida (as King Gama), Les Cloches de Corneville (as Gaspard, the miser), The Yeomen of the Guard (as Jack Point, 1889), and The Gondoliers (as the Duke of Plaza-Toro, 1890).He also played Lurcher, Point, and Gama in an 1890 tour of New Zealand.
Returning once more to England, his next London appearance was in a comic opera, The Wedding Eve, at the Trafalgar Square in September 1892.After appearing again as Lurcher at that theatre, he moved on to engagements at the Shaftesbury, Drury Lane, Princess's, and Opera Comique, before making his D'Oyly Carte debut on December 4, 1897, as Baron Puck in Brookfield and Ross's new version of The Grand Duchess of Gerolstein at the Savoy. When The Grand Duchess was succeeded by a revival of The Gondoliers in March 1898, Elton took the part of the Duke of Plaza-Toro.There was no role for him in The Beauty Stone (May 1898), so Elton moved on to the Comedy Theatre in a play called Lord and Lady Algy. But The Beauty Stone didn't last and Elton returned to the Savoy as the Duke in July 1898 when The Gondoliers was brought back again for another two months.
When The Gondoliers closed again in September Elton joined Carte's "E" Company which was playing The Grand Duchess on tour, taking over as Baron Puck until the tour ended at the end of the year.He left the D'Oyly Carte at that point, returning to London in 1899 where his last role appears to have been Christopher Potter in a musical comedy at the Lyric called Little Miss Nobody.
---
E Index | "Who Was Who" Homepage
---