THE D'OYLY CARTE OPERA COMPANY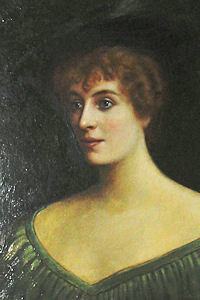 Kate Erskine
Kate Erskine (1893-95)
Kate Erskine was principal soprano on tour with D'Oyly Carte Opera Company "E" From April 1893, when she succeeded the departing Florence Perry, to June 1895.Her roles were Phyllis in Iolanthe (April-May 1893), Phoebe Fairleigh in Billee Taylor (April-May 1893), Yum-Yum in The Mikado (April-December 1893), Dorothy Vernon in Haddon Hall (May-November 1893), Princess Zara in the first provincial production of Utopia Limited (December 1893-March 1895), Josephine in H.M.S. Pinafore (September 1894-March 1895), Mirette in Mirette (December 1894-February 1895), Rita in The Chieftain (February-June 1895), and Patience in Patience (May-June 1895).
Her only recorded appearance on the London Stage was Lady Margaret Ptarmigan in Basil Hood and Walter Slaughter's musical comedy Dandy Dan, the Lifeguardsman (Lyric, December 1897-May 1898).
Kate Erskine married D'Oyly Carte tenor Frank Tebbutt in 1894. In later life she taught singing.
She was probably the sister of Alice Erskine who appeared with her as Melene in Utopia Limited.
---
E Index | "Who Was Who" Homepage
---