THE D'OYLY CARTE OPERA COMPANY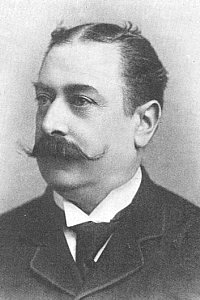 Wilfred Esmond
Wilfred Esmond (1878)
[Born Dublin 1844, died Ayr, Scotland 4 Mar 1913]
Tenor Wilfred Esmond, whose real name was Michael Butler, was originally intended for the family business:the brewing industry.He studied for the stage in his native Dublin and in London, and eventually made his stage debut in 1877 in two comic works by Julian Edwards called Dorothy and Buckingham.
He joined D'Oyly Carte's touring Comedy Opera Company Ltd. in April 1878, taking over from Walter Wadmore as the Defendant in Trial by Jury and also taking the part of Peter Bloom in Breaking the Spell, another companion piece that alternated with Trial by Jury during the first provincial production of The Sorcerer. The tour and, it appears, Esmond's association with the D'Oyly Carte organization ended on August 10, 1878.
In August 1879 he took the leading tenor part with the Carl Rosa Opera Company in The Seige of Rochelle.In all, he served eleven years with Carl Rosa, mostly on tour, but did appear in London in 1883 at the Alhambra in Frederic Clay's The Golden Ring.He also spent several seasons with Augustus Harris at Drury Lane, four seasons at the Royal Opera, Covent Garden, and toured with grand opera in South Africa.He subsequently took out his own company in Olivette and other works.Esmond was touring as manager of the O'Mara Opera Company when he was taken ill enroute to an engagement in Ayr, Scotland.He died there shortly after his arrival in March 1913.
---
E Index | "Who Was Who" Homepage
---