THE D'OYLY CARTE OPERA COMPANY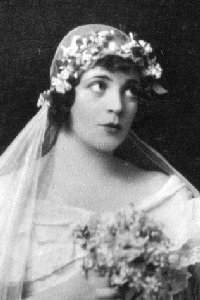 Eleanor Evans as the Plaintiff in Trial by Jury
Eleanor Evans (1921-37, 1940-45)
[Born Henllan, Denbighshire 1893, died Colwyn Bay, Wales 20 Dec 1969]
Although she appeared with the D'Oyly Carte Opera Company for over 20 years, Eleanor "Snookie" Evans made her greatest mark on the Company as its Stage Director and Director of Productions from 1949 to 1953.
She was already married to Darrell Fancourt when she joined the D'Oyly Carte Repertory Opera Company chorus in March 1921, taking over the part of the Plaintiff in Trial by Jury in May and June with the departure of Marion Brignal. Miss Evans was back to chorus duties only when the next season began in July 1921, but in January 1923 took over the small part of Ada in Princess Ida when Nell Raymond left the Company.Miss Evans reclaimed the Plaintiff in August 1924, and in December of that year moved up to Lady Psyche in Princess Ida in place of the departing Kathleen Anderson. It was also during the 1924-25 season that she appeared on occasion as Josephine in H.M.S. Pinafore, filling in for Elsie Griffin.
Eleanor Evans played the Plaintiff and Psyche throughout the 1925-26 season, but in August of 1926 those parts were given to newcomer Louise Whittock.Miss Evans was left with the occasional emergency appearance as Psyche and Gianetta in The Gondoliers that season.For the next ten years (July 1937-July 1947), she had only chorus duty.She left the D'Oyly Carte Opera Company chorus in July 1937, but returned to the chorus in the summer of 1941, remaining until August 1945.
Miss Evans (Mrs. Fancourt) was selected by Bridget D'Oyly Carte in 1949 to replace Anna Bethel (Mrs. Sydney Granville) as Stage Director.It was a choice that met with strong opposition (Martyn Green's, for example) from the outset.Snookie's methods were described in most unflattering terms by Green, Richard Walker, and others, and even her supporters admitted she could be temperamental at times.She left her position as Stage Director in 1953, the year Darrell Fancourt retired from the stage, though she continued to coach new D'Oyly Carte principals for some time thereafter.
---
E Index | "Who Was Who" Homepage
---