THE D'OYLY CARTE OPERA COMPANY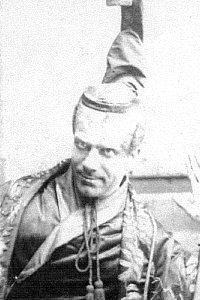 Robert Fairbanks as The Mikado of Japan in The Mikado
Robert Fairbanks (1882-87, 1903)
[Born Stafford, Staffordshire 23 Aug 1853, died 15 Jan 1908]
Robert Fairbanks may have had the unusual distinction of performing with the D'Oyly Carte Opera Company both from the stage and the orchestra pit. Trained as a violinist in his native Staffordshire, Fairbanks reportedly played violin with a touring D'Oyly Carte Opera Company in the 1870s.
He toured as a chorister with Mr. D'Oyly Carte's No. 2 "Iolanthe" Company in the First Provincial production of Iolanthe, possibly taking a part in the companion piece, Desprez and Solomon's Quite and Adventure. In January 1884 Fairbanks took the part of the Earl of Mountararat in Iolanthe, and in July 1884, when Patience was added to the repertoire (and the Company redesignated as Mr. D'Oyly Carte's "E" Company) Fairbanks added Archibald Grosvenor.
"E" Company performed Patience and Iolanthe until May 1885, when they were given the honor of presenting the First Provincial production of The Mikado. Robert Fairbanks took the title role of The Mikado of Japan and played it throughout a run that lasted until December 10, 1887, when he left the Company.
Fairbanks continued to perform in light opera and other entertainments, however. He went to South America in 1891 with the Edwin Cleary Opera Company, appearing in Gilbert & Sullivan and other works for audiences in Buenos Aires, Montevideo, Valparaiso, Lima, and elsewhere. The Company was shipwrecked off the coast of Chile and reportedly trekked across the Andes to reach safety in Argentina, before returning to England in March 1892. Fairbanks subsequently appeared with the Moore & Burgess Minstrels as "Interlocateur" and toured in La Poupee and Alfred Cellier's Dorothy. His roles on the London Stage were Caspar in the comic opera Mignonette (Royalty, May-June 1889), and Malicio in the fairy pantomime Cinderella (Novelty Theatre, February 1896). He also toured for a spell as Elvino di Pasto in Gilbert & Cellier's The Mountebanks (1892).
In September 1903 Robert Fairbanks returned to D'Oyly Carte Opera Company "E" after more than 15 years absence to take the parts of Bill Bobstay in H.M.S. Pinafore, The Mikado in The Mikado, the Lieutenant of the Tower in The Yeomen of the Guard, and Giuseppe in The Gondoliers. He left the Company for the final time in December 1903 when "E" Company was disbanded. (According to an article in the Staffordshire Newsletter, February 5, 1949, Mr. Fairbanks also played Dick Deadeye in H.M.S. Pinafore, and Don Alhambra in The Gondoliers.)
---
---