THE D'OYLY CARTE OPERA COMPANY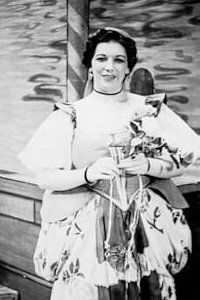 Caryl Fane in The Gondoliers
Caryl Fane (1937-51)
[Born Margate, Kent 19 Nov 1913, died Whakatane, New Zealand 19 Nov 2000]
Contralto Caryl Fane, whose real name was Joyce Cecily Pilcher, appeared with the D'Oyly Carte Opera Company chorus from September 1937 to August 1951. During the 1939-40 season she took her first named parts, filling in briefly as the Queen of the Fairies in Iolanthe and the Duchess of Plaza-Toro in The Gondoliers.
From August 1940 onwards she was the Company's regular Inez in The Gondoliers and deputized often for the principal contralto as the Queen of the Fairies, the Duchess, Dame Carruthers in The Yeomen of the Guard, the Lady Jane in Patience, Katisha in The Mikado. She may be heard as Inez in the Company's 1950 recording of The Gondoliers.
Miss Fane was married to D'Oyly Carte chorister Peter Charters. After her husband rejoined the RAF in 1959, she accompanied him to Rheindahlen, West Germany, where she directed him and other military personnel in several Gilbert & Sullivan productions in the early 1960s.
---
F Index | "D'Oyly Carte Who Was Who" Home Page
---