THE D'OYLY CARTE OPERA COMPANY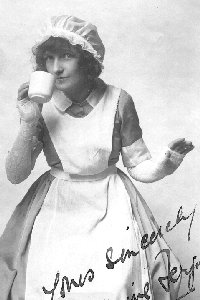 Catherine Ferguson as Constance in The Sorcerer
Catherine Ferguson (1918-23)
[Born London 8 Feb 1895, died Hove 22 May 1972]
Catherine Ferguson made her first appearance on the stage in 1915 in The Girl in the Taxi. She later appeared in The Pearl Girl and The Cinema Star before joining the D'Oyly Carte organization.
She was engaged by the D'Oyly Carte Repertory Opera Company in January 1918 as principal soubrette, replacing Nellie Brierciffe when that lady left the Company. She immediately assumed the roles of Constance in The Sorcerer, Hebe in H.M.S. Pinafore, Edith in The Pirates of Penzance, the Lady Angela in Patience, Iolanthe in Iolanthe, Melissa in Princess Ida, Pitti-Sing in The Mikado, Phoebe Meryll in The Yeomen of the Guard, and Tessa in The Gondoliers.
Except for the eighteen-week London season from September 29, 1919, to January 31, 1920, Miss Ferguson played these roles until she left the Company in 1923. During that 1919-20 London season, the supremely popular Miss Briercliffe was brought back, and Miss Ferguson took the smaller parts of Kate in The Pirates of Penzance, the Lady Saphir in Patience, Leila in Iolanthe, Peep-Bo in The Mikado, and Vittoria in The Gondoliers.
Catherine Ferguson resumed her principal soubrette parts on February 2, 1920, and added Mad Margaret in Ruddigore in December 1920 when the supernatural opera was given its first revival in Glasgow.
She left the D'Oyly Carte in June 1923, increasing deafness forcing an early retirement from the stage. She was married to fellow D'Oyly Carte performer Arthur Lucas in 1920 while the Company was on tour in Manchester.
---
F Index | "D'Oyly Carte Who Was Who" Home Page
---