THE D'OYLY CARTE OPERA COMPANY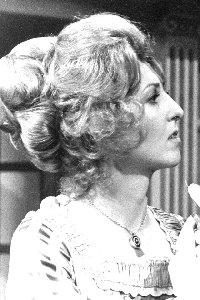 Pamela Field as Josephine in H.M.S. Pinafore
Pamela Field (1972-75, 1975, 1981-82)
[Born Aberdare, South Wales]
Pamela Field studied at the Welsh College of Music and Drama, and later at the Royal College of Music. She won the Young Welsh Singers Competition and the Pernod Award, before joining the D'Oyly Carte Opera Company as chorister, small part player, and understudy to principal sopranos Julia Goss and Linda Ann Hutchison in September 1972. During her first season with the Company she played the Lady Ella in Patience, Celia in Iolanthe, and Fiametta in The Gondoliers on a regular basis, while filling in on occasion as Aline in The Sorcerer, Josephine in H.M.S. Pinafore, and Elsie Maynard in The Yeomen of the Guard.
When Miss Hutchison left the Company at the end of the 1972-73 season, Pamela Field took over most of her parts, appearing as Josephine, Patience in Patience, Phyllis in Iolanthe, Elsie, and Gianetta in The Gondoliers until leaving the Company in August 1975. Before she left she also appeared as Princess Zara in the 1975 Centenary production of Utopia Limited, and sang the part of the Princess of Monte Carlo in the Centenary concert performance of The Grand Duke.
Miss Field was to return to the D'Oyly Carte Opera Company for guest appearances on two subsequent occasions:first in December 1975 as Elsie Maynard in The Yeomen of the Guard, and again during the final months of the Company's existence as Phyllis in Iolanthe (November-December 1981), Josephine in H.M.S. Pinafore (December 1981), and Aline in The Sorcerer (February 1982).
She has appeared regularly on the opera, operetta, and concert stage in subsequent years, as well as on radio and television. Her video appearances have included the 1975 D'Oyly Carte video production of H.M.S. Pinafore as Josephine, and the 1982 Brent Walker production of Iolanthe as Leila. She may also be heard on the D'Oyly Carte's 1974 recording of Iolanthe (as Phyllis), and the 1976 D'Oyly Carte Utopia Limited (as Princess Zara).
She is married to fellow D'Oyly Carte artist David Porter.
---
F Index | "D'Oyly Carte Who Was Who" Home Page
---