THE D'OYLY CARTE OPERA COMPANY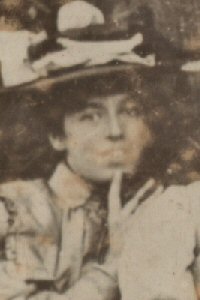 Carrie Fisher
Carrie Fisher (1891-1901)
[Born Edinburgh, Scotland c.1872]
Caroline "Carrie" Fisher was a chorister and small part player who sang with D'Oyly Carte Opera Company "C" from January 1891 to Decembr 1896, and again from August 1897 to at least April 1901. In between, she toured South Africa with a D'Oyly Carte company from December 1896 to June 1897, and appeared briefly with D'Oyly Carte Opera Company "B" in July 1897.
Her roles were Fleta in Iolanthe (January 1891-December 1896, August-December 1897), First Bridesmaid in Trial by Jury (January 1895-December 1896, July 1897-December 1900), Chloe (December 1897-December 1899) and Ada (January, 1899, January-December 1900) in Princess Ida, Saleta in Utopia Limited (on occasion, 1898). She may well have played First Bridesmaid and Fleta in South Africa as well but the record of that tour is incomplete.
She was the daughter of David Fisher, and sister of Bernard Fisher.
---
F Index | "D'Oyly Carte Who Was Who" Home Page
---