THE D'OYLY CARTE OPERA COMPANY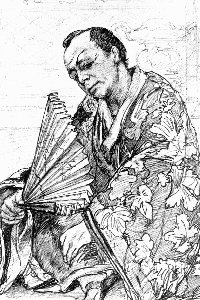 David Fisher as Ko-Ko in The Mikado
David Fisher (1880-89)
[Born Norwich 1845, died Liverpool 25 May 1889]
Walter David Fisher was educated for the stage by his father, David Fisher the elder, at whose benefit (at the Theatre Royal, Glasgow, in 1852) the younger Fisher made his stage debut as the boy in The Children of the World. His first professional engagement was at the Theatre Royal, Manchester in 1862.
In 1870 he leased the Theatre Royal, Edinburgh, producing several plays with considerable success. In 1873 he appeared at the Athenee Theatre, Paris, with an English company of comedians, and in 1874 joined Mrs. Hermann Vezin's Cora Company. He made his first appearance on the London Stage in July 1875 at the Theatre Royal, Haymarket, as Moses in The School for Scandal. This was followed by numerous roles at the Haymarket in the late 1870s.
In October 1880, he joined the newly-formed Mr. D'Oyly Carte's "B" Company ("C" Company from March 1881) as principal comedian, appearing as Major General Stanley on tour in the First Provincial production of The Pirates of Penzance until December 17, 1881. After a break of nearly four months, Fisher resumed touring as the Major General with Mr. D'Oyly Carte's No. 1 "Pirates" Company in April 1882. The Company was disbanded in December, but Fisher remained in the D'Oyly Carte fold, touring as Nick Vedder with a Company performing Farnie and Planquette's Rip Van Winkle through July 1883.
On Boxing Day 1883, Fisher was again performing Gilbert & Sullivan, this time as Sir Joseph Porter in H.M.S. Pinafore and General Stanley in The Pirates of Penzance with Mr. D'Oyly Carte's "Pinafore" and "Pirates" Company. And on February 4, 1884, he was with yet another new company:Mr. D'Oyly Carte's "D" (Princess Ida No. 1) Company:appearing as King Gama in the First Provincial production of Princess Ida. Fisher remained with "D" Company, adding J. W. Wells in The Sorcerer in February 1885 when that opera joined Princess Ida on tour, and appearing as Ko-Ko in The Mikado from August 1885 to May 1886, when his place was taken by George Thorne. From June 1886 to January 1887 Fisher toured Germany and Austria with Carte's "G" (Continental) Company as Ko-Ko.
David Fisher returned to Great Britain, where he toured as Ko-Ko with Carte's "A" Company (January-February 1887) and "D" Company (March-April 1887). He then began another, still longer tour of the Continent, appearing as Ko-Ko in Germany, Austria, and Holland from April 1887 to February 1888, and briefly as Reginald Bunthorne in Patience in Berlin.
In November 1888, Fisher was back with the D'Oyly Carte in a tour of Great Britain and Ireland with Carte's Company "C" as Wilfred Shadbolt in The Yeomen of the Guard. He did not complete the tour. David Fisher died in Liverpool on May 25, 1889.
He was the father of Bernard Fisher and Carrie Fisher.
---
F Index | "D'Oyly Carte Who Was Who" Home Page
---