THE D'OYLY CARTE OPERA COMPANY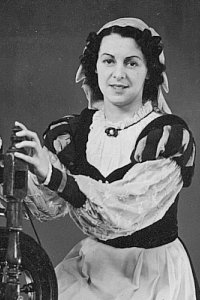 Nancy Fisher as Phoebe Meryll in The Yeomen of the Guard
Nancy Fisher (1946-47)
[Born Hull]
Nancy Fisher joined the D'Oyly Carte Opera Company in June 1946, taking the small roles of Edith in The Pirates of Penzance and Peep-Bo in The Mikado over the next two months, and filling in on occasion for principal soubrette Marjorie Eyre as Pitti-Sing in The Mikado.
Following Miss Eyre's departure in August 1946, Miss Fisher succeeded her in the principal mezzo-soprano roles, appearing as Edith, the Lady Angela in Patience, Iolanthe in Iolanthe, Pitti-Sing, Phoebe Meryll in The Yeomen of the Guard, and Tessa in The Gondoliers. Between March and May 1947 these roles were shared with Sybil Ghilchik, and Miss Fisher went on as Peep-Bo in The Mikado and Giulia in The Gondoliers when Miss Ghilchik played the soubrette leads.
From May until the season ended in August 1947, Miss Fisher was took Peep-Bo and Vittoria in The Gondoliers as her only regular named parts. She had planned to leave the Company at the close of the season, and so Miss Ghilchik took the leads more often as the end approached.
---
F Index | "D'Oyly Carte Who Was Who" Home Page
---