THE D'OYLY CARTE OPERA COMPANY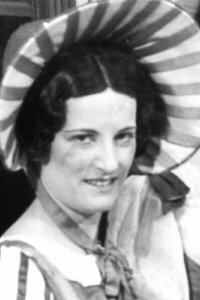 Marjorie Flinn in H.M.S. Pinafore
Marjorie Flinn (1935-42)
[Born 1911, died 13 May 1979]
Marjorie Flinn joined the D'Oyly Carte Opera Company chorus in May 1935 and remained with the Company until January 1942. During her tenure she appeared regularly as Kate in The Yeomen of the Guard (1935-37, 1939-42), Fiametta in The Gondoliers (1935-41), Celia in Iolanthe (1937-39, 1940-41), Ada in Princess Ida (1937-39), Zorah in Ruddigore (1937-41), Lady Ella in Patience (1939-41).
She often filled in over the years in principal soprano roles:as Rose Maybud in Ruddigore (1935-36), Casilda in The Gondoliers (1938-39 and 1941), the Plaintiff in Trial by Jury (1940-41), Yum-Yum in The Mikado (1940-41), and Gianetta in The Gondoliers (1941). She also made at least one appearance in the smaller roles of Giulia in The Gondoliers (1939) and First Bridesmaid in Trial by Jury (1939).
After leaving the D'Oyly Carte, Miss Flinn remained involved with Gilbert & Sullivan and amateur operatics, producing many amateur shows over the years.
---
F Index | "D'Oyly Carte Who Was Who" Home Page
---