THE D'OYLY CARTE OPERA COMPANY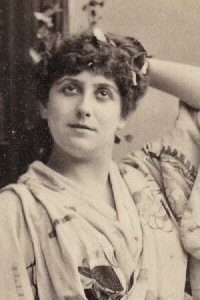 Kate Forster as Pitti-Sing in The Mikado
Kate Forster (1882-1902)
[Born c.1861, died Norwich 5 Feb 1915]
Kate Forster, whose real name was Kate Hardwicke, first appeared with the D'Oyly Carte Opera Company in New York in the chorus of Bucalossi's Les Manteaux Noirs at the Standard Theatre, September-Ocober 1882. She remained at the Standard for Carte's First American production of Iolanthe (November 1882-February 1883) in which she took the part of Leila.
She then traveled to England where she joined Mr. D'Oyly Carte's No. 1 "Iolanthe" Company on tour in April 1883, again as Leila, which she played until the tour ended in December. In February 1884 she began touring again:this time with a new company, Mr. D'Oyly Carte's "A" ("Princess Ida" No. 2) Company, in the principal soubrette role of Melissa in the new opera. "A" Company added The Sorcerer to its repertoire in January 1885 and Kate Forster took her first contralto role:that of Lady Sangazure.
She left "A" Company in March 1885, joining Mr. D'Oyly Carte's "C" (Repertory) Company the following month as Kate in The Pirates of Penzance, the Lady Angela in Patience, and Leila in Iolanthe. In August 1885 she returned to America where she appeared with Carte's First American Mikado Company in the role of Pitti-Sing in New York and Boston until May 1886.
Her return to England lasted less than a month. She appeared for a fortnight in Liverpool and Manchester as Hebe in H.M.S. Pinafore and Pitti-Sing, before heading for Europe with Mr. D'Oyly Carte's "Continental Company" ("G" Company), and a tour of Germany and Austria as Pitti-Sing until January 1887. She then returned to England, gave two matinee performances at the Savoy as Mad Margaret in Ruddigore (February 1887), and headed back to America once more where she played Margaret with Carte's First American Ruddygore Company (as the opera was called in America) at New York's Fifth Avenue Theatre.
After the New York run ended in April 1887, she returned to the British Isles where she toured as Margaret with Carte's "C" Company until December. "C" Company shut down briefly but was reconstituted as a repertory company in February 1888. Miss Forster was their principal soubrette with a part in each of the operas:playing Hebe, Angela, and Pitti-Sing until June, Edith in The Pirates of Penzance and Pitti-Sing from July to October, and Angela when Patience was added in October. (She also substituted as Little Buttercup in H.M.S. Pinafore for Elsie Cameron in April.)
On November 1, 1888, "C" Company abandoned the repertoire to give the First Provincial production of The Yeomen of the Guard with Kate Forster as Phoebe Meryll. She left "C" Company in December take the same role with Company "E," and then a month later with Company "B."
She toured with Company "B" in Yeomen for the rest of the year, playing Phoebe until October 1889, when she switched to Dame Carruthers upon the departure of Kate Talby. It marked a permanent change to contralto roles. In December 1889, The Mikado was added to the "B" Company repertoire and Miss Forster took Katisha for the first time. She was called to the Savoy briefly in April 1890 to fill in for Rosina Brandram as the Duchess of Plaza-Toro in the new opera, The Gondoliers. She then resumed touring:first with "B" Company (May-June 1890) as the Duchess, then with "C" Company (June-July 1890) still as the Duchess, then with "D" Company (August-December 1890) as Katisha and Dame Carruthers, and next with "E" Company (December 1890-April 1891) as Katisha and the Duchess.
In April 1891 she settled in for a stay with Carte's Company "C" that would last until November 1896. During that time she would play all the principal contralto roles:Lady Sangazure, Little Buttercup, Ruth in The Pirates of Penzance, Lady Jane in Patience, the Queen of the Fairies in Iolanthe, Lady Blanche in Princess Ida, Katisha, Dame Carruthers, and the Duchess.
At the end of November 1896 she left for a D'Oyly Carte tour of South Africa. There she played all the contralto roles she'd played with Company "C" plus Lady Sophy in Utopia Limited and the Baroness von Krakenfeldt in The Grand Duke. The tour ended in June 1897. She then returned to England, appearing briefly in July with "B" Company (the same company that toured South Africa) before returning to "C" Company in August 1897.
Miss Forster reclaimed all her contralto roles with "C" Company:touring with them until October 1901, and then again from January to June 1902. During this period she appeared in familiar contralto roles:Lady Sangazure, Buttercup, Ruth, Jane, Fairy Queen, Blanche, Katisha, Dame Carruthers, the Duchess, and Lady Sophy, as well as as "Dancing Sunbeam" in The Rose of Persia, which was part of the repertoire from January to September 1901.
After leaving the D'Oyly Carte in June 1902, Kate Forster appears to have remained active in musical theatre. She returned to London and the Savoy for one engagement, September-November 1909:as Miss Spinifex in Eden and Somerville's The Mountaineers.
---
F Index | "D'Oyly Carte Who Was Who" Home Page
---