THE D'OYLY CARTE OPERA COMPANY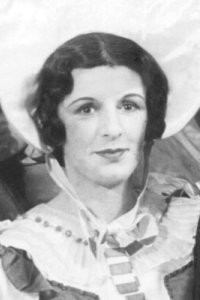 Helene François in H.M.S. Pinafore
Helene François (1920-23, 1924, 1929-30, 1931-42)
[Born c.1899, died Dec 1961]
Helene François joined the D'Oyly Carte Repertory Opera Company chorus in October 1920. In July 1921 she began to take small named parts, sharing Isabel and Kate in The Pirates of Penzance, Fleta in Iolanthe, Kate in The Yeomen of the Guard, and Fiametta in The Gondoliers with several other performers during the 1921-22 season.
In 1922-23 she had Isabel and Fleta to herself, as well as Kate in Yeomen once May Bennett left in October 1922. Miss François continued to share Fiametta (with Ethel Maclelland and Kathleen Anderson), and also for the first time split Lady Ella in Patience (with Bennett and Anderson) and Ruth in Ruddigore (with Eileen Sharp). Miss François left the Company in June 1923, but returned in February 1924, again appearing as Isabel, Ella, Fleta, Kate (Yeomen), and Fiametta before leaving the Company again in July 1924.
On December 12, 1927, she was one of the bridesmaids in a benefit performance of Trial by Jury at His Majesty's Theatre, Haymarket, as part of the Charles Courtice Pounds Tribute Matinee. It was her only known appearance on the London Stage during her absence from the D'Oyly Carte.
Helene François returned to the D'Oyly Carte Opera Company twice more. She was back in the chorus from July 1929 to June 1930. After another year's absence, she returned to the D'Oyly Carte chorus again in August 1931. This time she remained for eleven seasons, leaving the Company for good in August 1942.
---
F Index | "D'Oyly Carte Who Was Who" Home Page
---