THE D'OYLY CARTE OPERA COMPANY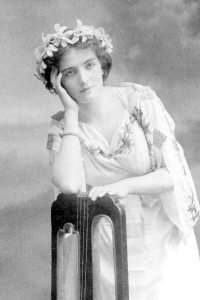 Agnes Fraser as the Lady Ella in Patience
Agnes Fraser (1898-1903)
[Born Springfield, Fife 1878, died 22 Jul 1968]
Agnes Fraser made her first appearance on the stage with D'Oyly Carte Opera Company "D" in the chorus of The Vicar of Bray, The Lucky Star, and Haddon Hall. Company "D" toured from December 26, 1898, until September 30, 1899, when the it was disbanded.
She joined Carte's main Company at the Savoy for the November 29, 1899, premiere of The Rose of Persia. Two weeks into the run she took over the small part of "Blush-of-Morning" when Isabel Jay was promoted to the Sultana upon the abrupt departure of Ellen Beach Yaw. Later in the run (which lasted until June 1900), Miss Fraser would herself make an occasional appearance as the Sultana in place of Miss Jay.
Agnes Fraser's next part was Isabel in the June-November 1900 revival of The Pirates of Penzance. Again she understudied Miss Jay in the leading soprano role, going on for her as Mabel in September. When Patience was revived next (November 1900-April 1901), Miss Fraser was the Lady Ella, and for The Emerald Isle (April-November 1901) she played Kathleen, again filling in on occasion for Miss Jay as Lady Rose Pippin.
She was Ah-Mee in The Willow Pattern when it played with Ib and Little Christina (November 1901) and, in a shortened version, with Iolanthe (December 1901-March 1902), also taking Celia in the latter work.
When Isabel Jay left the Company after Iolanthe, Agnes Fraser moved up to leading soprano:taking Bessie Throckmorton in Hood & German's Merrie England (April-November 1902) at the Savoy and on tour. Although she was ill and missed the Savoy opening of A Princess of Kensington, January 22, 1903, she soon joined the cast in her intended role as Kenna, which she played at the Savoy and on tour until September.
When the tour ended, Fraser and many of the Company left the D'Oyly Carte organization, transferring to the Adelphi where she appeared as Elphin Haye in The Earl and the Girl. She later appeared in musical comedies at the Lyric, the Apollo, and at Drury Lane between 1905 and 1907, and subsequently toured with her husband, Walter Passmore, from 1911 to 1915.
She was the sister of Alec Fraser who appeared with her in A Princess of Kensington at the Savoy in 1903.
---
F Index | "D'Oyly Carte Who Was Who" Home Page
---