THE D'OYLY CARTE OPERA COMPANY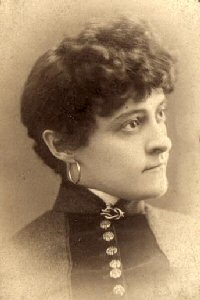 Minnie French
Minnie French (1881)
[Born c.1863, died New York City 4 Jan 1899]
Dancers Minnie and Helen French appeared at New York's Standard Theatre with D'Oyly Carte's First Billee Taylor Company from February to May 1881. Billed as "The French Twin Sisters," the sisters danced the "Sailor's Hornpipe and special dance" according to the program. It was their only engagement with the D'Oyly Carte organization. The twins had earlier appeared on Broadway in a Tony Pastor burlesque of H.M.S. Pinafore called T.P.S. Canal Boat Pinafore (February-April 1879).
"The French Twin Sisters" first appeared on the vaudeville stage at age fourteen and were for years a very successful song and dance team. Minnie French married Charles E. Evans, of the vaudeville team of Evans & Hoey, and later a manager of the Herald Square Theatre. She had been engaged by Evans & Hoey to appear in the role of Innocent Kidd in A Parlour Match in 1885, and ended up marrying Evans, while her sister, who also joined the Company, married Hoey.
Minnie French would play Innocent Kidd on several occasions in the 1890s, always in productions starring her husband. In New York alone she took the role at Harry Miner's Peoples Theatre (April 1892), the Bijou Theatre (September-October 1892), and the Herald Square Theatre (September-October 1896).
---
F Index | "D'Oyly Carte Who Was Who" Home Page
---