THE D'OYLY CARTE OPERA COMPANY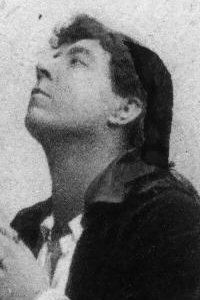 Ernest Freshwater as Antonio in La Toledad
Ernest Freshwater (1891-99)
[Born London 17 Feb 1867]
Ernest Owen Freshwater spent the eight years from 1891 to 1899 singing smaller bass-baritone parts with a number of D'Oyly Carte touring companies. His first role was Antonio in The Gondoliers with Carte's Company "B" from July 1891 to June 1892. In June, The Gondoliers was dropped from the tour and, when the Company resumed in July, Freshwater was assigned the Lieutenant of the Tower in The Yeomen of the Guard. In November 1892, Haddon Hall was added with Freshwater as one of the Puritans, Kill-Joy Candlemas. Yeomen was dropped in December, and though The Vicar of Bray and Patience played at times, Freshwater's only named part through February 1894 was Candlemas. Company "B" played Utopia Limited exclusively beginning in February 1894, with Freshwater at first in the small part of Mr. Blushington. He switched to Captain Corcoran in July, following Albert Kavanagh's departure, and in September, when Patience was restored to the repertoire, added Kavanagh's old part of Colonel Calverley. He yielded the Colonel to Frank Crimp in January 1895, but at the same time picked up Bob Beckett in H.M.S. Pinafore which was added to the tour. Utopia Limited was dropped in January, and Freshwater was limited to Beckett for the rest of the year despite the addition of several operas to the repertoire.
We lose track of Freshwater from December 1895 to July 1896, when he surfaces with Carte's Company "D"as the Prince of Monte Carlo in The Grand Duke, assuming the part from Frank Lynne. When Utopia Limited joined The Grand Duke on the tour in October, Freshwater adds the part of Scaphio. The Company is disbanded in November 1896, but Freshwater soon appears as Adam in His Majesty (with Carte's Company "C," March-August 1897, and Company "B," August-December 1897).
January 1898 found Freshwater with D'Oyly Carte Opera Company "E," where he toured as Beckett in Pinafore, Sergeant Meryll in The Yeomen of the Guard, and (from June forward) Nepomus in The Grand Duchess of Gerolstein. In December 1898 he rejoined D'Oyly Carte Opera Company "D," where he may have had a small part in The Vicar of Bray. In February 1899, Company "D" took up The Lucky Star with Freshwater as Kedas. He yielded the part briefly to W. H. Leon in April, but may have resumed it when Leon left the following month. Freshwater's D'Oyly Carte career ended in June or July 1899.
---
F Index | "D'Oyly Carte Who Was Who" Home Page
---