THE D'OYLY CARTE OPERA COMPANY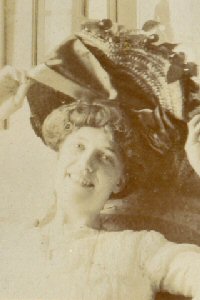 Nancy Freyne
Nancy Freyne (1902-04, 1905-06)
[Born 10 Jan 1877, died 22 or 24 Jan 1977]
Nancy Freyne joined the D'Oyly Carte Opera Company "C" chorus in October 1902. In December 1902 she appeared in Folkestone as Lady Psyche in Princess Ida. She was then promoted to principal soprano with D'Oyly Carte Opera Company "E", appearing from March to December 1903 as Josephine in H.M.S. Pinafore, Yum-Yum in The Mikado, Elsie Maynard in The Yeomen of the Guard, and (from September onward) Gianetta in The Gondoliers. Company "E" was disbanded in December, and in January 1904 she joined the D'Oyly Carte Principal Repertory Opera Company. There she retained Gianetta, but took smaller parts in The Pirates of Penzance (Isabel), Patience (Lady Ella), Iolanthe (Leila), Princess Ida (Lady Psyche), The Mikado (Peep-Bo), and The Yeomen of the Guard (Kate).
She left the Carte organization in June 1904, but returned to the Repertory Company a year-and-a-half later (November 1905) to replace Norah Maguire as principal soprano. Her roles this time were Josephine, Mabel in Pirates, Patience in Patience, Phyllis in Iolanthe, Princess Ida in Princess Ida, Yum-Yum, Elsie, and Gianetta. She left the Company for the second and last time in September 1906.
She later appeared in London as the Fairy Bluebell in the pantomime Red Riding Hood (Terry's, 1906-07), Olga Comoff in the musical play Captain Kidd (Wyndham's, 1910), and Golden Ray in the panto Mother Goose (Lyceum, 1916-17).
In January 1977 Miss Freyne received a telegram from Dame Bridget D'Oyly Carte, and a signed poster from the D'Oyly Carte Company, in recognition of her hundredth birthday. She died two weeks later.
---
F Index | "D'Oyly Carte Who Was Who" Home Page
---