THE D'OYLY CARTE OPERA COMPANY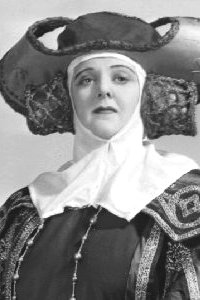 Evelyn Gardiner as Lady Blanche in Princess Ida
Evelyn Gardiner (1921-25, 1936-39)
[Born Shepherd's Bush, West London 12 Mar 1894, died Honolulu, Hawaii 13 Jun 1970]
Contralto Evelyn Gardiner, whose real name was Enid Griffin, joined the D'Oyly Carte Repertory Opera Company as a chorister in December 1921. She was soon chosen as an understudy for Bertha Lewis in the principal contralto parts, appearing in May 1923 as Inez in The Gondoliers and filling in for Miss Lewis on occasion in the 1924-25 season as the Duchess of Plaza-Toro in the same opera.
She left the Company in January 1925 for further vocal training and to work in films. She then returned to the legitimate stage, appearing in London in numerous plays at the Regent Theatre from 1928 to 1931. In the summer of 1931 Miss Gardiner traveled to Australia, appearing in Sydney as the Duchess of Plaza-Toro in The Gondoliers, Ruth in The Pirates of Penzance, Dame Carruthers in The Yeomen of the Guard in August and September 1931. She toured major cities in Australia, New Zealand, and South Africa in Gilbert & Sullivan for the next three years playing principal contralto parts, but returned to London briefly in 1934 (where she was the Slave of the Lamp in the pantomime Aladdin and His Wonderful Lamp at the Prince Edward Theatre).
Miss Gardiner returned to G&S in Australia and New Zealand in 1935 but was recalled to the D'Oyly Carte Opera Company to take up the principal contralto parts in August 1936, starting with an 18-week tour of America. Over the next three years she played them all:Lady Sangazure in The Sorcerer, Little Buttercup in H.M.S. Pinafore, Ruth in Pirates, the Lady Jane in Patience, the Queen of the Fairies in Iolanthe, Lady Blanche in Princess Ida, Katisha in The Mikado, Dame Hannah in Ruddigore, Dame Carruthers in Yeomen, and the Duchess in Gondoliers:until she left the Company and the country to return to Australia for a third time in September 1939 at the outbreak of World War II.
During and after the war years she continued to perform in Gilbert & Sullivan with the Tait & Williamson organization in Australia. Revivals of G&S included seasons at the Theatre Royal, Sydney in 1941; His Majesty's Theatre, Melbourne, in 1944 and again in 1949; and the Empire Theatre, Sydney in 1951. She was an excellent public speaker and was awarded an M.B.E. (Member of the Order of the British Empire) for her services in raising support of "Bundles for Britain" and other relief efforts.
While her stage career ended in 1960, her love for Gilbert & Sullivan did not. She continued to produce operas for the Gilbert & Sullivan Society of Sydney. She died while on a visit to Hawaii in 1970. For further details on her life and career, see Tony Joseph's booklet "Evelyn Gardiner, Flying Opera Singer," published by the author's own Bunthorne Books, Bristol, in 2004.
---
G Index | "Who Was Who" Homepage
---