THE D'OYLY CARTE OPERA COMPANY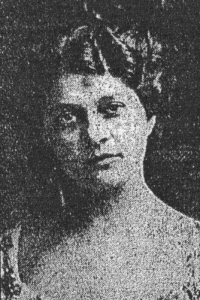 Ernestine Gauthier
Ernestine Gauthier (1907)
[Born Springfield, Massachusetts 10 Jun 1880, died Westfield, Massachusetts 14 Nov 1988]
Ernestine J. Gauthier was in all likelihood the longest lived performer ever to sing with the the D'Oyly Carte Opera Company. In her youth a soloist at the South Church Choir in her native Springfield, Massachusetts, Miss Gauthier pursued her musical training in Paris before joining the D'Oyly Carte.
She was a chorister and understudy with the D'Oyly Carte Opera Company at the Savoy from March to August 1907, the latter part of the First London Repertory Season, and may have toured briefly with the D'Oyly Carte Repertory Opera Company once the London Season had ended. She filled in on occasion in July and August at the Savoy for Jessie Rose as Iolanthe in Iolanthe, and for one performance in August as the Lady Angela in Patience.
Upon leaving the D'Oyly Carte, she returned to America, singing as a contralto soloist in concert at the Court Square Theatre, Springfield, in 1908, and continuing her career with the Boston Opera Company. She retired from professional singing in 1915 to marry and raise a family, though she sang at charity benefits during World War I, and was later a soloist with the First Church of Christ Scientist in Springfield.
She was almost certainly the last surviving D'Oyly Carter who appeared at the Savoy under W. S. Gilbert's direction when she died in Westfield, Massachusetts, in November 1988, at the age of 108.
---
G Index | "Who Was Who" Homepage
---