THE D'OYLY CARTE OPERA COMPANY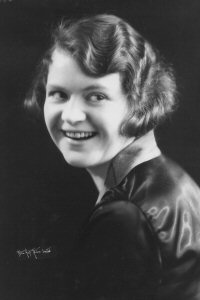 Blossom Gelsthorpe
Blossom Gelsthorpe (1925-30)
[Born c.1903]
Blossom Gelsthorpe joined the D'Oyly Carte Repertory Opera Company in 1925, taking her first named part, Fleta in Iolanthe, in December of that year. The following season (August 1926-June 1927), she appeared regularly as Lady Ella in Patience, Fleta in Iolanthe, and Kate in The Yeomen of the Guard (sharing the latter role with Louise Whittock), and also made a single appearance as Casilda in The Gondoliers (in June 1927).
From July 1927 to June 1928, Miss Gelsthorpe was the regular Ella and Kate (Yeomen), while understudying principal soprano roles and filling in now and then as Mabel in The Pirates of Penzance, Phyllis in Iolanthe, Rose Maybud in Ruddigore, and Casilda in The Gondoliers. The following season (July 1928-June 1929) she was given Mabel and Casilda on a full-time basis, along with Ella, shared Yum-Yum with Marjorie Eyre, and also filled in on occasion as Phyllis.
The July 1929-June 1930 season would be her last with the D'Oyly Carte Opera Company. Miss Gelsthorpe appeared regularly during the first few weeks as Mabel in Pirates, Ella in Patience, Yum-Yum in Mikado, Rose Maybud in Ruddigore, Kate in Yeomen, and Gianetta in Gondoliers, until Winnie Melville joined the Company.
Between September 1929 and May 1930, she was reduced the Ella and Kate as her only named parts. In May she filled in for Winifred Lawson for a few weeks as Phyllis in Iolanthe and Casilda in Gondoliers. Blossom Gelsthorpe then left the D'Oyly Carte when the season ended in June 1930.
---
G Index | "Who Was Who" Homepage
---