THE D'OYLY CARTE OPERA COMPANY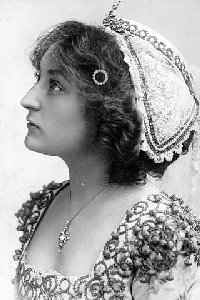 Ethel George as Casilda in The Gondoliers
Ethel George (1910-13)
Ethel George joined the D'Oyly Carte Principal Repertory Opera Company on tour in January 1910, appearing as Isabel in The Pirates of Penzance, Fleta in Iolanthe, and Peep-Bo in The Mikado during the remainder of that season, and Fiametta in The Gondoliers beginning in April. During the 1910-11 season she had Isabel and Fleta to herself, and assumed Sacharissa in Princess Ida, Peep-Bo, and Fiametta when Myfanwy Newell left in March 1911. Miss George also filled in for a while for Marjorie Stone in April 1911 as Patience in Patience, Phyllis in Iolanthe, and Yum-Yum in The Mikado.
In the 1911-1912 and 1912-13 seasons she had Isabel, Fleta, Sacharissa, Peep-Bo, and Casilda to herself, and in the latter year added First Bridesmaid in Trial by Jury. She also filled in on at least one occasion in January 1912 as Mabel in Pirates and, in May 1912, as Kate in The Yeomen of the Guard. Miss George left the D'Oyly Carte Opera Company in June 1913.
There was a "Miss George" who was in the chorus at the Savoy during D'Oyly Carte's First (1906-07) and Second (1908-09) London Repertory Seasons, and may have been Ethel.
---
G Index | "Who Was Who" Homepage
---