THE D'OYLY CARTE OPERA COMPANY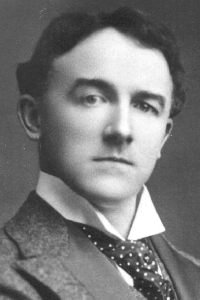 Edward German
Edward German (cond., 1902)
[Born Whitchurch, Shropshire 17 Feb 1862, died London 11 Nov 1936]
Edward German, full name Edward German Jones, studied the organ and violin at the Royal Academy of Music. He won the Charles Lucas Medal for composition in 1885, and in 1889 was appointed conductor of the Globe Theatre orchestra, where he provided incidental music for Richard Mansfield's production of Richard III. He went on to compose dance and incidental music for Henry Irving's production of King Henry VIII as the Lyceum in 1892, as well as numerous other orchestral compositions for the stage and music festivals.
While he had offered to compose an opera for Richard D'Oyly Carte in the early 1890s, the offer came to nothing, and German had virtually no experience in opera or choral music when he was asked by Carte to complete the score for The Emerald Isle following Arthur Sullivan's death in November 1900. The opera had a modest run at the Savoy (205 perfomances from April to November 1901), but the music was critically acclaimed, and German was engaged to compose a work on his own. The opera with book by Basil Hood, Merrie England, which German conducted on opening night at the Savoy (April 2, 1902), would become a light opera standard. A third work was to follow, but A Princess of Kensington (Savoy, January-May 1903) would be met with indifference if not hostility and the Hood-German-Savoy partnership ended.
After setting several Kipling lyrics ("Just So Song Book," 1903) German went back to orchestral music for a while, writing his aclaimed "Welsh Rhapsody" for the Cardiff Festival in 1904. He would not return to opera until 1907, when he composed Tom Jones for the Apollo. In 1909, he returned to the Savoy:but not to D'Oyly Carte, the theatre having been leased to C. Herbert Workman:to collaborate with W. S. Gilbert on Fallen Fairies, an adaptation of the latter's 1873 fairy comedy The Wicked World. Fallen Fairies was a total failure, pleasing neither critics nor audiences and closing after 51 performances. It was German's last work for the stage.
Edward German was knighted in 1928. He is the subject of two biographies:"Edward German: An Intimate Biography" by William Herbert Scott (London, Cecil Palmer, 1932), and "A Musical Peacemaker: The Life and Work of Sir Edward German" by Brian Rees (Abbotsbrook, Kensal Press, 1986). The latter book provides considerable insight into German's Savoy experiences.
---
G Index | "Who Was Who" Homepage
---