THE D'OYLY CARTE OPERA COMPANY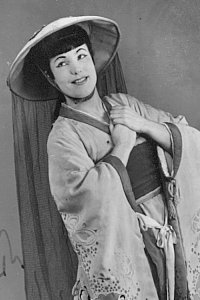 Sybil Ghilchik as Pitti-Sing in The Mikado
Sybil Ghilchik (1945-47)
[Born London 15 Nov 1920]
After a twelve-month season at the London Coliseum playing in The Belle of New York, Sybil Ghilchik joined the D'Oyly Carte Opera Company in September 1945 as chorister and understudy to principal soubrette Marjorie Eyre. During the 1945-46 season, Miss Ghilchik filled in for Miss Eyre on occasion as Edith in The Pirates of Penzance, Pitti-Sing in The Mikado, and Phoebe Meryll in The Yeomen of the Guard, taking over Pitti-Sing on a full-time basis in January 1946.
By September 1946 Miss Eyre had left the Company, her roles assumed by Nancy Fisher. Sybil Ghilchik meanwhile assumed the small parts of Kate in The Pirates of Penzance, the Lady Saphir in Patience, Leila in Iolanthe, and Vittoria in The Gondoliers. She continued to fill in on occasion as principal soubrette (Pitti-Sing, Iolanthe in Iolanthe, and Tessa in The Gondoliers) and even made the odd appearance as Inez in The Gondoliers.
In March 1947 Miss Ghilchik was promoted to principal soubrette. During the remainder of the season she appeared regularly as Edith, the Lady Angela in Patience, Iolanthe, Pitti-Sing, Phoebe, and Tessa. She married D'Oyly Carte chorister Terence O'Donoghue that year and left the Company at the end of the season:in August 1947.
The O'Donoghues emigrated to Australia in 1956 with their three children. There Terence was engaged as principal tenor in Gilbert & Sullivan with the J. C. Williamson organization for the 1956-58 season.
---
G Index | "Who Was Who" Homepage
---