THE D'OYLY CARTE OPERA COMPANY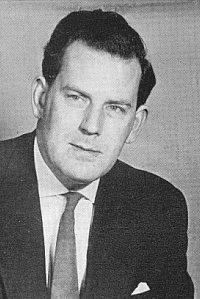 Robert Gibson
Robert Gibson (1945-46)
[Born Stockport c.1914]
Robert A. Gibson was described by Tony Joseph in his "unofficial history" of the D'Oyly Carte Opera Company as "one of the more enigmatic figures in D'Oyly Carte history." Educated in Manchester, Gibson began his musical career as a choirboy in that city's cathedral. After serving in the R.A.F. in World War II, he joined the D'Oyly Carte Opera Company as a chorister in November 1945. He left the stage in August 1946, and the following month succeeded Harry Arnold as the Company's Stage Manager.
Gibson left the D'Oyly Carte in July 1949 and traveled to New York where he served as the first British Stage Manager of the Radio City Music Hall. He returned to the D'Oyly Carte in September 1953, replacing Eleanor Evans as Director of Productions, a post he held for three years. During this time he was most notably involved with Bridget D'Oyly Carte and designer James Wade on the Company's new production of Princess Ida. Gibson then suddenly disappeared from the scene following the 1955-56 season, resurfacing eventually in Canada.
In the late 1950s, Gibson was engaged by the Oberlin College (Ohio) Gilbert & Sullivan Players. Over the next decade he helped produce, and directed, several Gilbert & Sullivan operas for the Oberlin group, most notably as "Director of Productions" for their summer operations in Falmouth, Massachusetts, which he continued to oversee through 1968.
During the 1960s he was also involved with the Roman Catholic Church, engaged in projects for the Diocese of Raleigh, North Carolina, and the Better World Movement at Rocca di Papa, near Rome. He later studied for the priesthood at a seminary in the upper midwest, then served as a parish priest at a church in North Carolina. He eventually retired to a home for retired priests in Texas, where he died in the early 1980s.
---
G Index | "Who Was Who" Homepage
---