THE D'OYLY CARTE OPERA COMPANY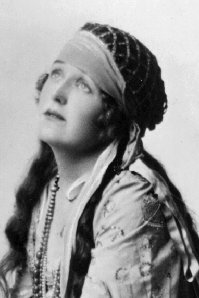 Helen Gilliland as Elsie Maynard in The Yeomen of the Guard
Helen Gilliland (1917-19, 1919-20, 1921-22)
[Born Belfast, Northern Ireland 31 Jan 1897, died at sea 24 Nov 1942]
Helen Gilliland made her first stage appearance on tour with the D'Oyly Carte Repertory Opera Company in July 1917 as one of its principal sopranos, singing Aline in The Sorcerer, Mabel in The Pirates of Penzance, Phyllis in Iolanthe, Yum-Yum in The Mikado, and Casilda in The Gondoliers until leaving the Company in June 1919 at the close of her second season.
She returned to the Company in September 1919 for the 18-week London season at the Princes Theatre, appearing once more as Aline, Phyllis, Yum-Yum, and Casilda:but not Mabel, which was taken by Elsie Griffin. Miss Gilliland left again at the end of the season in January 1920.
When Rupert D'Oyly Carte scheduled another London season:this one for 27 weeks from October 1921 to April 1922:Helen Gilliland returned for her third and final engagement. This time she appeared as Patience in Patience, Phyllis, Yum-Yum, Elsie Maynard in The Yeomen of the Guard, and Casilda.
She moved to the London Hippodrome in April 1922, and had a number of roles on the London Stage until 1928, when she traveled to America, appearing at the Shubert Theatre, New York, in The Red Robe. She eventually returned to England, appearing at Drury Lane in January 1931 in The Song of the Drum, and at the Gaiety in August 1931 in Nina Rosa. She appeared regularly in London and on tour over the next six years in musical comedy, variety, and pantomime.
Her agent sought a New York role for her in Knights of Song, the 1938 Oscar Hammerstein musical about Gilbert & Sullivan, but nothing seems to have come of it.
Miss Gilliland was a member of ENSA (the British equivalent of USO camp shows) during World War II. She was en route to an ENSA engagement in 1942 when the ship on which she was traveling was torpedoed by the Japanese Navy and sunk in Far Eastern waters. There were no survivors.
---
G Index | "Who Was Who" Homepage
---