THE D'OYLY CARTE OPERA COMPANY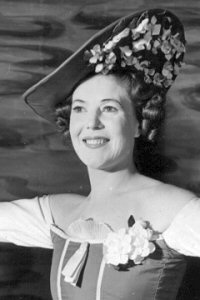 Joan Gillingham as Tessa in The Gondoliers
Joan Gillingham (1946-51)
[Born London c.1916, died 25 Sep 1958]
Joan Gillingham was educated in Surrey. She took a secretarial post in London at age 18 and soon took up private voice training there. In 1942 she volunteered for the WAAF and became a radar operator. She later was selected for a WAAF variety show that toured England and the Continent, performing in RAF camps and garrison theatres. Upon demobilization she returned briefly to her secretarial duties, but soon sought an audition with the D'Oyly Carte Opera Company.
She joined the Company on tour in December 1946. Within a month she took her first named part, that of Leila in Iolanthe, and by the end of her first season (August 1947) was appearing regularly as Hebe in H.M.S. Pinafore, Kate in The Pirates of Penzance, Lady Saphir in Patience, Leila in Iolanthe, Peep-Bo in The Mikado, and Vittoria in The Gondoliers. During her next season (Setember 1947-July 1948), she continued to appear as Hebe, Kate, Leila, Peep-Bo, and Vittoria, but moved up to Lady Angela in Patience. She also filled in on occasion in the principal soubrette roles of Iolanthe in Iolanthe, Phoebe Meryll in The Yeomen of the Guard, and Tessa in The Gondoliers.
For the next three seasons (August 1948-August 1951) Joan Gillingham was the D'Oyly Carte principal mezzo-soprano. She played Hebe, Edith in Pirates, Angela, Iolanthe, Pitti-Sing in The Mikado, Phoebe, and Tessa on a regular basis, though she did appear in the lesser parts of Kate (Pirates) and Peep-Bo (Mikado) on a few occasions during the 1948-49 season. In the summer of 1949 she added the last remaining mezzo role (Mad Margaret in Ruddigore) to her duties.
Although she was only with the D'Oyly Carte Opera Company a few years, her beauty, vivacity, and charm made her a huge popular favorite. She had been planning to return to the Company after the 1951 summer holiday, but it wasn't to be. She was taken ill and underwent major surgery and, while she seemed to recover somewhat, she was never strong enough to rejoin the Company. She lived with her painful illness for seven years and died in 1958 at the early age of 42.
She may be heard on three D'Oyly Carte recordings:the 1949 H.M.S. Pinafore (as Hebe), the 1949 Pirates of Penzance (as Edith), and the 1950 Mikado (as Pitti-Sing). She also participated in a 1951 BBC radio broadcast of The Mikado (again as Pitti-Sing).
---
G Index | "Who Was Who" Homepage
---